Devouring a new book, THE PRIME, written by Kulreet Chaudhary, M.D., Integrative Neurologist, I am deeply inspired by all she has witnessed in the profound results combining the practices of Ayurveda and Neurology. These results have shown that by "gently clearing the pathways in your body that eliminate wastes, removing the accumulation of toxins, and slowly altering your gut bacteria in a direction that will call out for better choices, you will discover that lifestyle changes become easier. Weight loss, increased energy, and mental clarity will begin to happen to you, rather than forcing them to happen. Your life simply begins to change for the better."
Improving digestion and developing rhythms in one's habits has a profound effect on shifting the mind set by shifting biochemical responses through deep cleansing. And just what are we cleansing? We are cleansing Ama.
In the field of Ayurveda, this is the key component to optimizing human potential – get the Ama out! Ama is similar to the word toxin yet has a broader meaning. It is the Ayurvedic term for substances inside the body and mind that are insufficiently digested and become toxic.
Our world had become filled with environmental toxins that unfortunately cannot be avoided.  Here are some staggering facts:
We have released over 100,000 toxic chemicals into our environment and less than 5 percent have been studied for human safety.
Every year, industry releases approximately 10,000,000 tons of toxic chemicals into the environment. (ouch!)
Artificial sweeteners have been shown to be carcinogenic and neurotoxic. (read your labels)
High-fructose corn syrup (found in most package foods) increases the kind of cholesterol that increases the risk of heart disease and diabetes.
Although in Western medicine there is no equivalent to the word Ama, there are studies that are now demonstrating how even small doses of toxic substances can result in chronic cellular dysfunction. Unfortunately, the list goes on to include products that we put on our skin and use in our household.
Ayurveda also includes the build up of Ama in our emotions and thoughts. Mental Ama is the accumulation of undigested emotions in the psyche, be it trauma from the past or unresolved conflicts that fester inside your mind. Whether in the body or the mind, these toxins that are insufficiently transformed will build up and do damage to the entire interconnected system and create disease.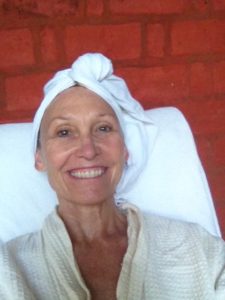 When I was in Southern India with my daughter, we participated in an Ayurvedic cleansing program known as Panchakarma. Here I am post Oil Bath treatment. After a whirlwind tour of the north, this was the perfect step to returning to balance. Each day we received specific sequences from our Ayurvedic physician regarding diet, herbs, and therapeutic treatments for the purpose of cleansing and rebalancing the body, mind and soul. It worked wonders.
Many of the other guests were Europeans who shared with us their stories of radical healing experienced through these deep cleansing and nurturing techniques. In fact, most of them now return year after year for the complete 3-week protocol that has become their personal healthcare insurance, sustaining a strong immune system, emotional balance, and overall well-being.
How do you know if you have Ama?
Ama smells foul. If your urine, sweat, or poop stink, you have Ama. Often when people are going through a cleanse, there is a period of time where odors become foul which is the sign that toxins are moving out of the body. To be blunt, if you already stink, you know you are in need of a deep cleanse.
Ama is sticky. This shows as up constipation. Your stool will not want to move. This, too, can happen at the start of a detox which often has people believing that the cleanse is not working. But it is. The ama is trying to get out. It just needs a little help with some extra fiber.
Ama makes you tired. If you feel like you are wading through water as you move through your day, know that this feeling of lethargy is a common sign of excess ama.
Ama leads to weight gain. Weight gain that causes chronic disease is not so much about excess calories. It is more about excess toxic calories. Fat cells enclose toxins, protecting you from them, which is why a toxic body quickly gains weight and makes it difficult to lose.
Simply put, if you are overweight, or tired, or constipated, or stinky, or all of the above, you are overdue for a cleanse. If those signs of ama are not present, you can still be assured, with all the pollutants in our environment, that there is still some ama to clear out. Why wait for the outer signs when you can prevent these problems from occurring in the first place?
Put health back into your own hands by shifting the focus of what your doctor is writing on a prescription pad to what you are putting on the end of your fork. Self-care does take time, energy, and dedicated commitment. And the return on investment in your wellness far exceeds the money paid into health insurance that focuses on illness.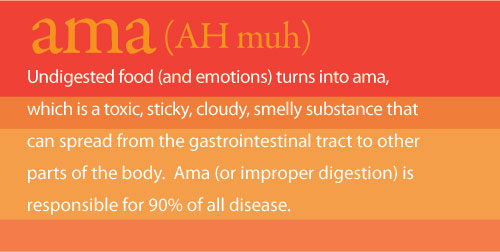 If you avoid cleansing your system on a regular basis, if you continue acquiring physical and mental ama, you will have a much harder time getting rid of excess fat, resolving neurological issues, and regaining energy, vibrancy, and health.
If you choose to cleanse periodically (spring and fall are the best seasons for this) you will strengthen your natural detox pathways and provide yourself with the micronutrients to fully support your system leading to a vibrant, easeful living.
The choice is yours.
Join the Qualitarian Cleanse – starting April 24. Last call for registration is today!