Nancy developed the YogaMotion method to invite people of all ages and abilities to experience yoga in a non-dogmatic, safe & supportive atmosphere integrating alignment and intuition, strength and fluiditiy, meditation and wisdom in action. As a teacher, her approach to yoga is both challenging and nurturing, inspiring the student to connect with their true essence and embody their aliveness potential.
Nancy has been a pioneer in the use of yoga as a transformative healing process for mind, body and spirit. Having moved to Bozeman, Montana in 1983, she has both introduced and expanded the practice of yoga in her community integrating yoga into the health clubs, schools and medical fields. From 2002 – 2006 she was on staff at Montana State University offering 4 sections of YogaMotion through the Health and Human Development Department. In response to many Montana residents, Nancy started the YogaMotion Yoga Center, Bozeman's first yoga studio, in conjunction with a 200-hour Instructor Training in 1998.
The producer of the home practice DVDs YogaMotion Fundamentals and YogaMotion Salute to the Sun, Nancy has conducted 35 teacher trainings and over 100 retreats internationally. She lives in the sanctuary of her home  in the Big Sky country of Bozeman, Montana and enjoys visiting her daughter, Roxanne, on the island of Kauai.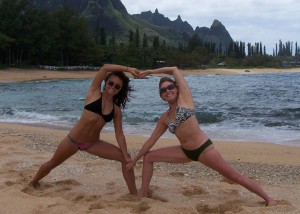 "YogaMotion is about quality, not quantity. With a limit of just 20 students in any one program the learning process is intimately shared and absorbed by all.
The practice of YogaMotion offers an education that becomes a catalyst for transformation. First within one's own body, mind and spirit and then through the sharing of authentic living and love of yoga. For me, it's the most effective tool I have for helping to heal the planet, one breath at a time."