by Barbara Beckett, 83 years young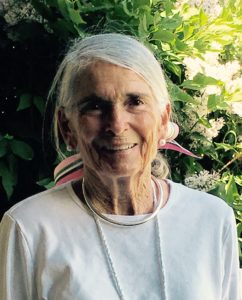 "Come to the library and meet Nancy Ruby. I have been her student for years," invited my friend May Vaugn.
I went. What a trip! Nancy is a lithe, lively person with a great smile and a sunny sense of humor.
Nancy explained her series of yoga on Tuesday mornings. I said, "Sounds like fun and it might help my vertigo. Something I might really enjoy."
Here I am, at the MAC in my old leotards and bare feet. I look around. I see younger women in all degrees of "fitness". Nancy asks for a show of hands by age group… 40s? 50s? 60s?… none 70s?… no 80s? I tentatively put up my hand and answered, "83." Nancy asks if I had ever studied yoga and I answer, "No."
Deep breath – here we go! We are down on our mats. I try everything – some more successfully than others; but, all a challenge and a great experience. Wow, I say to myself, this really feels good and I can, at 83, do it! I was flat on my back, on my tummy, standing up, stretched flat, bent like a pretzel.
Yes! I CAN do this!! My joy keeps going up, and up as the weeks slip by. No, I can't do it all… but I find I can do more as each Tuesday comes and goes. I am in love with this new experience… 83? or 38? Here I have found a new experience.
The six weeks have flown by. I am in the last Tuesday class. By now the class greets each other with warmth and friendship. We each go to our adopted space on the floor. We limber up or sit in a relaxed position, breathing deeply, clearing our minds, putting away the details of the coming hours of this Tuesday.
Namaste. Nancy greets us with her further explanations of terms of yoga. My, she is good at explaining in what I have come to call "body English" so the beginning of an understanding of the concept may be grasped.
We go down on our mats – breathe, big, slow. In through the nose, pause, slow deep exhale. My chest rises and falls, purposefully, powerfully, lovingly. My breath, my life. I bend this way and that and now know I can do it to my best 83-year-old ability. My fellow "yogis" are so reinforcing and positive about my efforts during the six weeks. I glow in their words, a big hug from my new friend Nancy Ruby.
And it will continue. Nancy explains upcoming events. They sound wonderful. At this point I don't care what it involves. My heart will be there.
Again, one last gem… every Tuesday morning, roll out my mat, at home, away from home, wherever I can find a quiet place. If nothing moves, just breathe and think about what I have learned about myself, my capabilities, my fascination with this adventure called "yoga".
---
Two 6-week courses with Nancy Ruby
It's never too soon or too late. 
All ages are welcome. 
Tuesdays 9:00 – 10:30 a.m
September 27 – November 1 
November 8 – December 27
(no class November 22 and 29)