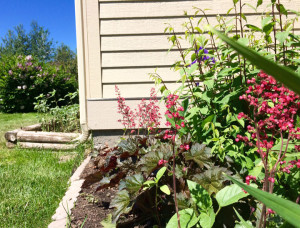 Ants love the flower box on the south side of my house where the Sunflowers are beginning to rise.
I don't love them living there. So I decided to test what I recently read about spritzing the little fellas with a mixture of peppermint essential oil and water. Although I probably shouldn't have been surprised, I was. It was like magic. The ants are completely gone and no harm came to my Sunflowers or surrounding plants or the army of ants. They simply moved on.
If you're struggling with garden pests and looking for a non-toxic all-natural solution here are a few more tips:
WHITE FIR: for slugs and snails
PEPPERMINT: for ants, aphids, gnats, moths and apparently mice and other rodents don't like potent peppermint either
ROSEMARY: for many types of pesky insects including flies, fleas and mosquitoes as well as for deterring insect larvae
TEA TREE OIL (MELALEUCA): to prevent or suppress garden fungus growth
THYME & LAVENDER: for protecting all vegetables in the garden
NOTE: Avoid spraying leaves, in general, apply in a ring around plants.
For more information on essential oils, place an order visit or to set up a one-on-one consultation contact me . I love integrating the oils into my yoga classes and into my daily life – sharing them with friends and family, offering natural solutions to support a healthy lifestyle now and for years to come.