A Surprising Return to Kauai

PART ONE   (written Friday, Dec 6 )
Over the past 48 hours I have been in the practice of deep gratitude and trust. And I now find myself on an airplane, starting a surprising journey. But let me fill you in first on the last couple days…
With my daughter's 21st birthday fast approaching, it was a week of reminiscing over baby pictures while gathering a smattering of photos that highlight Roxanne's young and very full life. It was bittersweet for me, as it's a wonderful milestone, and I was feeling sad that I could not be with her on December 7th celebration — as well our first Christmas apart.  I was also stuck for ideas on a gift for her special day. She said she didn't want anything — just a weekend to relax and play — and I was feeling disappointed in my lack of creativity.
Meanwhile, I have been practicing gratitude, and had just started a 40-day Mantra Meditation focusing on abundance. On Day Two, December 4th, I sat by my fireplace at the end of the night and chanted 108 rounds of my given abundance mantra. Afterwards, I pulled out my deck of Goddess Cards and set the intention that I would like to experience an abundance of time, allowing me to have some  time to relax, unplug and do whatever feels right, moment to moment. Mother Mary showed up as my chosen card, and she assured me that my prayers were being heard and answered.
As I sleepily climbed into bed, and was setting my alarm, I received a text message from Adrian (my son-in-love, aka Roxanne's boyfriend) telling me that he had secured three nights at Hale Mana for Roxanne's birthday celebration. Hale Mana is our new potential retreat location nestled above the ocean, with a private beach below . I jokingly responded, "beam me up, Scotty."  (See this stunning location here!)
And suddenly I wasn't sleepy anymore. My curious nature led me online to see if any last-minute airline deals existed. Do they?  Lo and behold, on the only days that I would be able to depart and return, there was an affordable ticket available. All other days were almost triple the cost!  It was a sign…"I'm so there."
And so here I am now, hovering high above the clouds between Denver and Los Angeles. After returning from Kauai just two weeks ago, I am on my way back to the island to surprise my daughter. I am her birthday present! Talk about instant gratification from my abundance meditation. I shall return to my 108 rounds of mantra as soon as I finish this post. I am so grateful — and still quite surprised! I will believe it all once I set foot in the sand.

PART TWO (written Sunday, Dec. 8)
During my meditation practice I bore witness to my own Emotional and Spiritual desires; they centered on a strong urge to have some down time for personal rest and recreation, as well as my heart's desire to be with my daughter. This led to the Universe suddenly making changes I didn't expect. There was no force or struggle. The doors just kept opening…..Here's part two of the story.
As you may know, the Universe does have a sense of humor. My faith was tested all the way from Bozeman to Lihue.
First, I realized Thursday night that I never received an email confirmation from United so that I could officially check in. I hurriedly made a nerve-wracking call and the airline agent informed me that one of the legs of my flight was never confirmed and was overbooked. While I remained as calm and kind as possible with the agent, I felt my insides frantic with the belief that this dream was just not really going to happen. And then I took a breath and decided to accept whatever the outcome would be, even if it meant staying home. "This is just how it is," I heard from my higher Self. And then, the agent's attitude softened. She connected to her supervisor, and rerouted me on what would have been a more expensive ticket, thus keeping my original reservation in place. All my higher Self can say about that is "Woohoo!"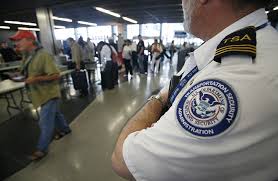 Again and again my capacity for acceptance was challenged, only to be pleasantly surprised. When faced with a huge, backed-up security line, I heard a TSA agent exclaim, "Finally, a precheck — just step over this way and go right through. No need to wait or take your shoes or sweater off. You can also leave your computer in the carry-on." My jaw dropped as I thanked them and asked why I was able to skip to the head of the line. "It's sort of the luck of the draw." I adamantly thanked the Universe, once again thinking "This is just how it is."
It didn't stop there. Extremely low temperatures caused some mechanical trouble that delayed us two hours and it eventually became evident that most everyone was going to miss their connections in Denver, myself included. My seat neighbor was so full of anxiety and fear, "should-ing" all over herself about what she should have done but didn't. It forced me to take the opposite stand by remaining calm and open to the unexpected. My new mantra appeared again…"This is just how it is" There would be no changing the past and we can't foretell the future, so I may as well just be present with what is.
As our plane landed, it was 1:00 pm in Denver and my connection to LA was scheduled to depart at 1:03. Continuing to remain open to the unexpected, I approached the gate agent and asked what I should do. Amazingly, she informed me that my next plane was running late, and proceeded to call them up to let them know I had just arrived. She told me to scurry to the next gate, as they would hold the plane for me. Hold the plane? Since when does that happen anymore? No time to wonder, I power-walked through the concourse and caught my connection. But the fun wasn't over yet.
Since the second plane was departing late from Denver, much to my benefit, these new passengers were all in a tizzy, believing that they would miss their connections. I assured my own row-mates not to worry. "You just never know what could happen." And sure enough, the pilot made up time en route and the next planes were delayed just long enough so that everyone was on their way as scheduled, including me.
Worrying would not have changed anything at all, and only would have caused anxiety and despair. By being open to possibilities, and in full acknowledgement that I had no control over the big picture, I enjoyed a worry-free journey with much amazement and great appreciation for the little miracles that make life magic.
I am now on Kauai, basking in the warm sunshine and experiencing my heart's true desire, to be with my wonderful daughter as she celebrates her milestone birthday.  Together again.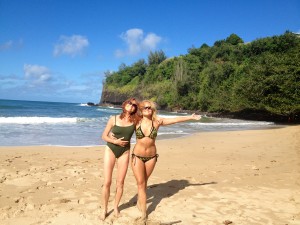 What is your true heart's desire? Could acknowledging and understanding what it is help create an opening to receive it?  Are you willing to ask for what you want and trust that your prayers will be heard and answered?  It's just how it is.