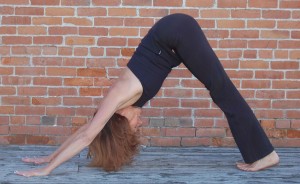 Students in my classes often mention that they don't know where to begin in creating a personal yoga practice at home.
Taking classes is essential to yoga practitioners of all levels to learn proper alignment, refine their practice, and challenge themselves. It is also a great way to trigger motivation, find inspiration, and feel a connection to a community of like-minded individuals.
However, the addition of a personal practice is a path toward continued growth and integration of yoga into your life. A personal practice  consists of you on your mat without external guidance. Here are a few tips for getting started.
Find a moment in your day when you can have a few minutes of undisturbed time. This will vary from person to person. Many practitioners find that their mind is the most clear in the early morning, and it is easier to schedule in some time before the activities of  daily life begins.
Give yourself the freedom to do as you please. Just get on your mat, start out easy, and do what feels good to you, your body, and your soul.
Be gentle with yourself. Personally, I just get myself to my mat. Sometimes I just lay there listening to my breath until an urge arises to move. If I end up just laying there breathing for 15 minutes, then that is my practice for that day.
I give myself permission to just daydream if I need to do that, even though that rarely happens. Sometimes it's a super powerful core workout, other times it's a gentle flow of hip releases after sitting at my computer. And it's all okay. The key is in creating balance with the rest of our day.

Create your Space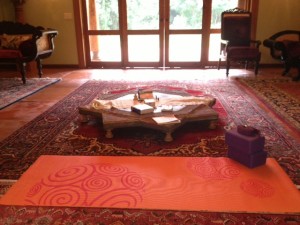 Committing to a practice will not only require your time, it will require space. Warming up to this idea is better than feeling overwhelmed with unnecessary details. Take your time to create a place where you can feel CENTERED and focused. This does not mean that you need to build a room onto your house! You simply need to create a space to store your props and spread your mat.
I have my props in my living room, though they are neatly stored away to the side, still visible, but not set out all day long. Well, some days they are, but that's an option, not a necessity.
The important point is to designate a place for repeated practice. Maybe add some visual decor that inspires you. Perhaps lighting a candle or special lamps that create the mood or display a picture or piece of art that inspires you. And that's not to say you don't change it up. In the summer months I often drag my mat and props out to the garden. And, I always return them to their primary home when I am finished. Honor your props as sacred tools.
While you may need to choose a place that is not ideal in every way, consider ways you might be able to adapt lighting, temperature, and space to make the area feel as comfortable as possible. Creating a place and space for yourself and your props will give you a feeling of belonging.
Here's a list of suggested props that you can accumulate over time. No hurry. Props are not required for your formal practice of Yoga, but they really do help support and inspire: yoga mat, 2 blocks, 1-2 firm wool or cotton blankets, an 8-foot strap, eye pillow, bolster. I suggest Hugger Mugger Yoga Products for a wonderful selection and the best bolsters available.

Your Practice
Creating a daily asana practice is paramount to your success of integrating yoga into your life. More than just a physical exercise, it is a daily opportunity to connect inwardly to your most authentic self. As you practice your postures, you also practice remaining centered in the present moment, paying attention to physical sensation and your body's wisdom, the flow of your breath, and the responses that arise within your mind and emotions. Yoga asana is a time of self inquiry and reflection, and becoming comfortable in your own skin.
Begin by committing to a daily practice of 15 minutes. It may end up going longer, but it's far more effective to start with a short practice and create daily consistency. And when it comes to time management, often less is more. Avoid overdoing your time frame so that other areas in your life also stay in balance.
Center in Tadasana, or Mountain pose – Align your Spine
YogaMotion Warm ups – Barrel breath, Elbows Side to Side, Squat Pump,Peleasana, Lift from Center (watch video of Lifting from Center)
Simple Asana: Half Salutation 3 x's (watch video of Half Salutations)
Release with Pelvic Stabilization
Relaxation in Savasana
ENJOY!  If you have any questions at all, feel free to contact me nancyruby@yogamotion.com