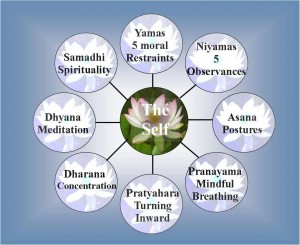 Everyone can practice yoga, and at whatever point you choose to begin is very personal and individual. It may not even involve a Yoga pose.
Why would anyone want to step onto this path?
You have a sense that you do not choose what is always best for you
or those around you.
You notice that you are unaware of your place in the world and feel disconnected.
You are often distracted and disturbed throughout your days, even while you sleep.
You feel a longing for a deeper sense of purpose and belonging.
You have learned that Yoga offers a path to health and well being, yet you still wonder how to apply it to your own life.
I would like to share the deeper meaning of Yoga, which is not about what you do but how you live your life.
What I am hearing from you is the desire to learn more about the traditional teachings that often go unmentioned in a one hour class. Because I have been living my Yoga for 31 years now, I have plenty to teach you about the big picture of Yoga. These Eight Limbs are what help keep me on track in living a life with balance, grace, and wisdom by affecting my attitude, my actions and my beliefs about myself and the world.
The Eight Limbs of Yoga, known as Asthanga Yoga, represent a way of life outlined in the book Yoga Sutras compiled by the sage Patanjali in 400 CE/AD. Astha means "eight" and angha means intertwining facets or limbs. This is a compass for life that serves to remove the veils of illusion. This system, when applied to daily living, reveals the deepest layers of our Self, giving way to the freedom of living with confidence and compassion, love and enthusiasm. The sweet life.
The word Asthanga*, if familiar, usually conjures up images of sensational yoga postures where limbs are wrapped into pretzel like shapes with skin glistening and breath billowing. In actuality, this physical practice of yoga postures was introduced and taught in the west by one of the foremost Indian Yoga masters of our time, K. Pattabhi Jois. This is the hatha yoga practice he learned from his teacher when he was a young boy and he dedicated his life to teaching this series of poses and breath control for the purpose of cleansing the body, focusing the mind, and awakening spirit.
Pattabhi Jois also included the philosophy of Asthanga Yoga in his teachings thus the name was connected to his unique approach to the physical practice by his students. This has led to confusion and is simply a matter of translation from East to West.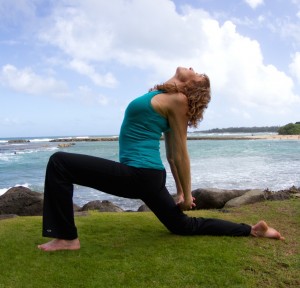 Hatha Yoga, involving physical postures and movement, breath control, and quieting of our senses, is what most westerners are embracing. We walk into a yoga studio to join a group class, set up our mat, follow the guidance of a teacher and depart feeling relaxed and rejuvenated. Wonderful. Yet, rarely do those classes pause to discuss the full spectrum of Yoga.
Let's open the conversation. For those of you practicing asana, do you ever wonder why this practice is affecting your attitude? (At least I hope it is.) With all those details of physical alignment, breath control, and mental focus, you're not only attending to your physical health, you are raising the quality of your life, both inwardly and outwardly.
Did you know that there are actually 18 individual, yet integrated, teachings within the classical Eight Limb philosophy? When you know more about them, you become more intentional and these teachings amplify the benefit of your efforts towards wellbeing. And, you will learn that Yoga is much more about the person than the pose.
To support you, I am now offering 18 short weekly lessons on the Asthanga Yoga Philosophy, one limb at a time, right here on this e-zine, and on my blog, beginning next week.
What this truly offers is a guide to becoming more YOU, living more fully and authentically with clarity and contentment. Stay tuned and keep an eye on your inbox for the start of this journey toward Self.
"The full ashtanga system practiced with devotion leads to freedom within one's heart."
– K. Pattabhi Jois
*Asthanga is spelled in the west as Asthanga, Ashtanga, and Astanga.