Treat Yourself this Summer to a Mini-Retreat including:
Meditation and Movement
Enjoy our cozy new studio space
Delicious, Vegetarian Catered Luncheon
Indoor and outdoor seating provided
Educational Presentation and Guided Discussion
Our lovely backyard offers an outdoor classroom setting to enjoy the summer season.
Thursdays 9:30 AM – 3:30 PM
July 13 • August 17 • August 31
The 2017 Summer Trilogy:
Join us for one or all three.
Once we receive your registration, a follow-up letter will be sent including where to go, what to bring, and how to best enjoy your stay.  We are accepting only 16 reservations, so claim your space today!
PELVIC REVOLUTION:  NOW FULL!
Things Your Mother Never Told You about the Pelvic Floor and more
with Renee Frederickson, MD, FACOG, RYT200 and Lindsey Kelley, E-RYT-200, RYPT
Thursday, August 31
Take a step further into body literacy and understanding. Meet your femininity in her own home, and all that this entails. Anatomy, ritual, breath, asana, and meditation. This is a safe space for women only. Explore a new approach to healing through yoga.
If you have experienced: pelvic pain, discomfort during sex or while using tampons, leaking when laughing or sneezing, frequent urination, prolapsed organs, traumatic pregnancy and birth or any other variety of discomfort or dysfunction you'd like to address with your pelvis, you will have a space to do so with this unique, and much needed offering. Even if you are not experiencing challenges, you will learn about preventative healthcare and enter into a conversation whose time has come. Let's get proactive about pelvic awareness and self care.  
CLEAN GUT = CLEAR MIND
Secrets of Yoga & Ayurveda for Optimal Digestion
with Nancy Ruby, E-RYT500, LMT and Sara Valentine, E-RYT200
Thursday, July 13 done – Future Date TBA
Do you experience bloating, constipation, irregular appetite?
Do you carry unwanted negative mood swings, or undesirable excess fat? 
Are you living with joint pain, lack of energy, or a foggy brain?
Yoga and Ayurveda can help! 
You may already know that good digestion creates more ease and energy in your life. But did you know that good digestion is also the source of a clear mind, positive mood, a good night's sleep, and is the key to a strong immune system? Integrative medicine is now addressing the fact that gut health mirrors brain health. Let's focus in on this relationship and find out how you can nourish both.
Learn how the practices of Yoga and Ayurveda can ignite your digestive fire with the added benefit of a clean, vibrant body and clear mind. Find out how Agni, your digestive fire, not only balances your metabolism, turning food into fuel, but also awakens your ability to digest emotions, experiences, and your everyday life. 
Yoga and Ayurveda together form a complete approach for optimal health, vitality and self awareness. They are known as sister sciences offering effective tools to bring balance to body, mind and spirit, therefore creating harmony in our lives. Aligning with the rhythms of the day, the season, and the stages of your life will bring ease and comfort, both in your belly and your brain. Join us for this one-day retreat to gain a broader understanding of your personal constitution and how to apply simple practices of movement, meditation, breathwork, and nutrition for optimal well being.
THE BREATHING PROJECT:
Using the Breath to Heal the Body, Mind and Spirit
with Martha Piersma, E-RYT200
Thursday, August 17 done – Future date TBA
You have been a breather your whole life, beginning with that first BIG inhale as you entered the world. In this Lunch & Learn we will enjoy a morning practice of stretching with the focus being on the muscles that help you breathe. From there we will spend time with the in-breath, the out-breath and discovering your diaphragm.
Paying attention to breath can enhance your life in a surprising number of ways:
More enjoyment of work and play
Greater ability to focus
Experience sounder sleep
More patience
Better listening skills, enhancing your relationships with others
Have you ever experienced stress, anxiety or depression? Learn accessible breathing practices to alleviate these conditions. Breath is continuous movement inside and out–the most wonderful massage you will ever experience. What a great way to practice self-care without ever leaving your favorite chair! You will walk away with a greater understanding of just how powerful your breath can be.. You will receive take-home information to support the start of your new hobby — Breathing!
EACH RETREAT OFFERS THIS DAILY SCHEDULE
9:30 – 10:00    Meet and Greet
10:00 – 12:00  Yoga , Mindful Movement, and Meditation Practices
12:00 – 1:30    Nutritious, Delicious Catered Luncheon
1:30 – 3:30      Educational Presentation and Guided Conversation
Catering by Janice Haugen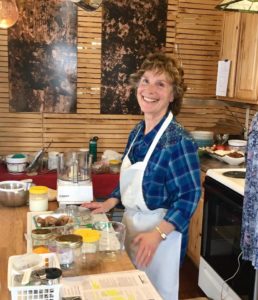 For more than three decades, Janice has cooked and baked and catered in restaurants, hotels, a university cafeteria, a spiritual community, a natural foods deli and private homes and businesses.
Along the way she has  taught cooking classes and written five cookbooks. For the past 8 years she has written a food column for Montana's bi-monthly Natural Life News and Directory and now offers her own recipe blog: Everyday Healthy, Everyday Delicious 
"Living in Montana, enhances my appreciation of each of the seasons and the fruits and veggies particular to each season. There are barely enough adjectives to describe food fresh-from-the garden—either my own or from the farmers markets." states Janice.  "Being mostly vegetarian, such great produce tastes best when prepared simply and cleanly."
You will love being nourished by Janice's creative culinary skills.
All events are hosted at our new retreat and studio location:
Sweet Zenith at the Yoga Flat – Bozeman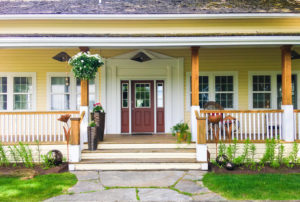 A "Hub" for wellness where the talents and multifaceted brainwork of practices represent various aspects of health and healing. The mission of Sweet Zenith lies in linking, supporting, and coordinating to serve and unify alternative and allopathic therapies. At Sweet Zenith, we refer to any and all of the resources at our disposal for the good of our community.
The Yoga Flat is our residential retreat option offering four sweetly appointed bedrooms with two single or one king bed for a comfortable place to rest your head. Nightly rental is available during all of our events.
Need a room? We have four of them>>> The Yoga Flat