Ho'oponopono is an ancient Hawaiian practice of forgiveness, used to bring balance and restore harmony to life.  The objective of ho'oponopono is to bring all people, places, and things into right alignment with peace, harmony and love. 
Do you ever find your mind ruminating over past events that have been resolved yet you are still reliving them over and over again?
Or have you settled disagreements with others, yet still find yourself attached to thoughts that begin with "if only…" or  "I/We/You should have…"
Ho'oponopono is the remedy for never "shoulding" on yourself or others by clearing the energy of painful thoughts or errors in perception.  In conflict between family or friends, or even within yourself, it is the tradition to find resolution to the issue and agree on the outcome.  Once the agreement is made, the energetic conflict is resolved. Cut the cord to the issue and leave it in the past. Truly let it go and move on.
Aunty Margaret , reknowned Lomi teacher states, "Alway practice ho'oponopono.  Empty your heart of all darkness, fear, and anger each day before the sun sets. Forgive everyone, especially those you love.  Forgive them each day before the sun sets so you have untroubled sleep and wake up to a new and fresh day."
Below is a simple nightly practice of Ho'oponopono offered by Maka'ala Yates .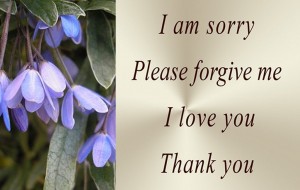 "If I have harmed anyone knowingly or unknowingly  in anyway, forgive me and I disconnect from that responsibility.  If anyone has harmed me in anyway knowingly or unknowingly, I forgive them and I disconnect from that responsibility."
It helps to visualize truly cutting a cord with a knife or wand or machete!  Whatever feels powerful to you.  Commit to resolve conflicts, freeing yourself and others from old issues that only cause pain and suffering.
When we have a problem, conflict, or illness to solve, we have to go within to work on ourselves.  The world is a reflection of what is happening inside us…as we heal ourselves, we heal the world around us.
Enjoy this link to a song of forgiveness – Ho'oponono Song.
Aloha.