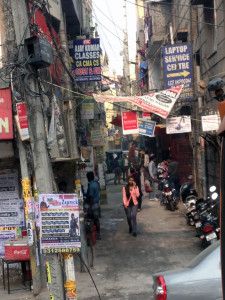 Yes, India… all that I ever imagined. I'll do my best to share what is beyond words. A moment in time… Across the Universe.
After nine long hours of insane traffic, incessant horn honking, and miraculously cornering by our well trained driver, we arrived to a dirt lot where numerous buses were parked outside the walls of inner Haridwar. We were told to carry our back packs and leave our baggage which would be rickshawed to our hotel. Carrying what we had on the bus was mandatory as we had a two minute warning to follow the leader toward the mighty Mother Ganga to catch the sunset Aarti – a daily sunset ritual of prayer and blessings. So through the tiny streets, better named corridors, thirty white Americans straggled along the marketplace filled with people, motorcycles, dogs, cows, stalls of clothing, jewelry, spices, foods, pungent smells, smiles and just the right amount of mystique. My eyes absorbed the colorful scene like a movie camera catching glimpses of what was once a fantasy, unfolding now before me in reality. I am here. This is the India I always imagined.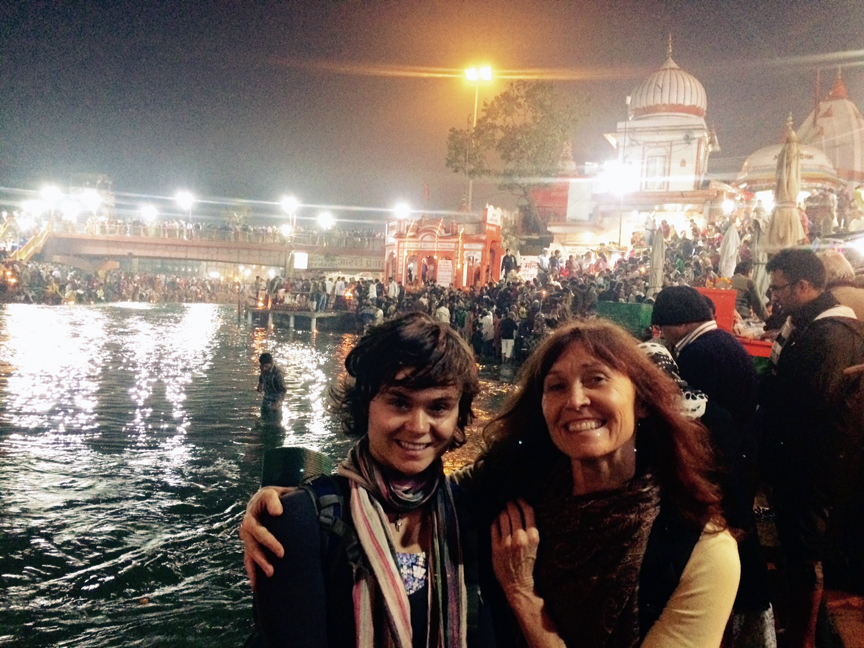 We spilled out of the congested corridors onto the ghat on the Ganges. The ceremony was just beginning. Hundreds were gathering, shedding their shoes and piling onto the steps along the river bank.  And so we did.  Stepping our toes into the water of the mother river while music blared, chants were sung, fire lit and swung about by many along the banks. Parcels of flowers were set ablaze and placed in the river with prayers. Droplets of water were sprinkled over the crowd, blessing all around. Tears welled up within my eyes as joy flowed in my heart with sensations of the exotic and the familiar intertwined in my heart and mind. So long I have dreamt of this sacred chaos. Standing ankle deep on the steps of the Ganga with my daughter beside me I closed my eyes, breathing in the moment, opening to the magnificent sensations of it all. A moment in time that has been a part of me forever. Somewhere in the journey of my soul, this has been home.
For more photos and memorable moments, connect to the YogaMotion Facebook page.