With sincere enthusiasm I would like congratulate the 45th YogaMotion Academy graduating class of our 200-hour Registered Yoga School!


Wow, 45th! That makes me sound really old, doesn't it? However, I have been conducting these trainings, along with a team of skilled instructors since 1998, holding 2 – 3 trainings per year in Bozeman and abroad, therefore 45 trainings in almost 20 years. High five to all involved as we spread the joy and wisdom that comes from the commitment to personal and planetary evolution.
It is with pride and pleasure that I witness the transformational growth occurring within each individual's physical skills, intellectual advancement, and spiritual expansion. On May 21st we celebrated the completion of a 9-month journey, with 22 certificates awarded to those who dedicated themselves to the challenge of in-depth study, personal practice, teaching exchanges, and interpersonal reflection. The rewards are vast and varied. Enjoy reading what these recent graduates share about their experiences below. They are the reason I continue to do what I do. Not only providing state-of-the-art teacher training, but more importantly, enriching the lives of many through the powerfully effective practices of Yoga and Ayurveda. Stepping into this training is a step towards oneself. Stepping out with new skills and  confidence, is a step towards making the world a better place.
These shifts of our inner landscape occur with the intimate, authentic exchange of ideas, beliefs, fears, and dreams. The physical practice and philosophical teachings of Yoga and Ayurveda are eloquently delivered through the offerings of our knowledgeable team of instructors who have been living their Yoga for many years.
Thank you for your gifts: Anna Ourusoff (Anusara Principles), Turi Hetherington (Integrative Nutrition and YM Concierge), Martha Piersma (Breathing, Meditation, and Yin), Hannah Johansen (Yoga Nidra and Intention), Deneen Pancari (Kid's Yoga), and Lindsey Kelley (Prenatal Yoga). Together we are truly adding to the beauty of this world, inside and out.
Send your notes of gratitude and felicitations to these grads. Your life will be enriched by simply sharing the company of these truly enlightened beings. Yes, many lights were turned on and are now shining brightly out into humanity.
YogaMotion Academy's Class of 2017:
| | |
| --- | --- |
|  Ashley Collins, Gillette, WY |    Lauren Kozlow, Bozeman, MT |
|  Bruce Wendt, Bozeman, MT |    Maria Bisso, Gardiner, MT |
|  Carly Peach, Stevensville, MT |    Mariah White, Bozeman, MT |
|  Chelsea Marshall, Bozeman, MT |    Martin Rollefson, Bozeman, MT |
|  Cynthia Zullo, Bozeman, MT |    Megan Helton, Helena, MT |
|  Dylan Caplis, Missoula, MT |    Meghan Cogdill, Bozeman, MT |
|  Elizabeth Rink, Bozeman, MT |    Paige White, Bozeman, MT |
|  Jen Creed, Great Falls, MT |    Penny Tonn, Gillette, WY |
|  Kayla DeWit, Missoula, MT |    Rosemary Keating, Bozeman, MT |
|  Keziah Efta, Billings, MT |    Susan Dostal,, Bozeman, MT |
|  Lauren Jewett, Bozeman, MT |    Traci DelVecchio, Bozeman, MT |
 You are a shining star no matter who you are. Shining bright to see what you could truly be.
– Earth, Wind and Fire
Are you shining your light?
May the kindred spirits of YogaMotion's 45th Training spark the fire in you. See their words of inspiration below.
With deep honor, I bow.
---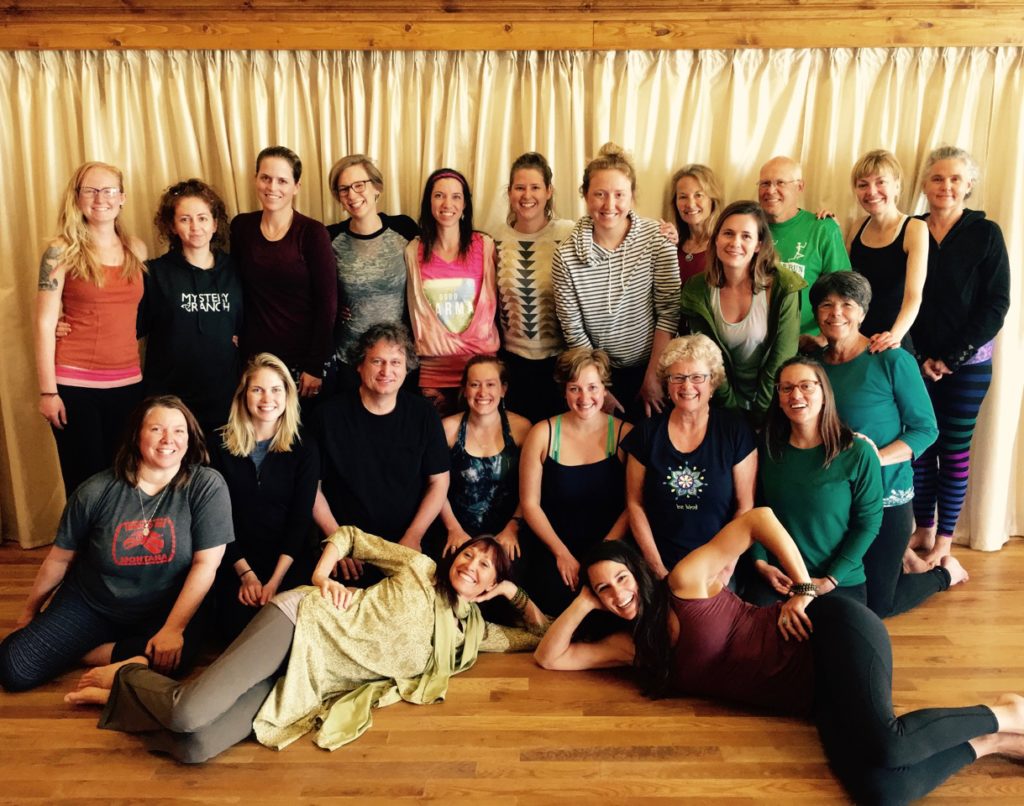 What the Graduates have to say…
Through this course I have gained a lot more balance in my life. I'm able to establish proper boundaries to make sure that I am taking care of myself. When I am faced with a decision I have an easier time choosing one or the other instead of getting stuck in limbo. I am less attached to things that no longer serve me and I am able to let go when needed. I have gained tools to help me through life. I feel more enthusiastic and comfortable practicing yoga at home, which is wonderful. I am excited to share what I've learned with friends and family.
–Dylan Caplis, 200 hour Certified Yoga Teacher
Yoga will continue be a big part of my life, both personally  and professionally. This training covers a large scope of Yoga and really pushed me to dig deep into myself. It hasn't been easy, but it's been so worth it! I feel like the emphasis on developing a personal practice and doing my own self-work is some of the best preparation for stepping up to share this practice with others. I am excited to finally be stepping into full-time focus on building a private practice and working for myself after years of dreaming about doing it. Thank you for creating the space for people to realize their dreams.
– Carly Peach, Therapeutic Recreation Specialist, Myofascial Release Therapist, 200 hour Certified Yoga Teacher
I am grateful for this opportunity, it truly is life changing. I love the community/tribe that we formed. I love being in Nancy's energy and joy. I would like to offer that enthusiasm in my own life.
– Susan Dostal, 200 hour Certified Yoga Teacher
Through this training I have learned how to bring myself toward balance, while simultaneously growing by beginning to go with the flow and observing the things that happen around me. Not only do I have more confidence, but I feel more equipped to address the challenges that come into my life. I intend to return to my mat and maintain an awareness and sensitivity toward myself so that I can increase positive vibrations, let go of the mundane and insignificant, and cherish every moment. I am a softer, kinder person now and feel contentment on a daily basis, with less negativity and stress than ever before. The feelings of joy daily are palpable. I never knew that was possible. My relationship with yoga has changed profoundly, as has my relationship with myself.
– Penny Tonn, M.S., CCC-SLP, Speech Language Pathologist, 200 hour Certified Yoga Teacher