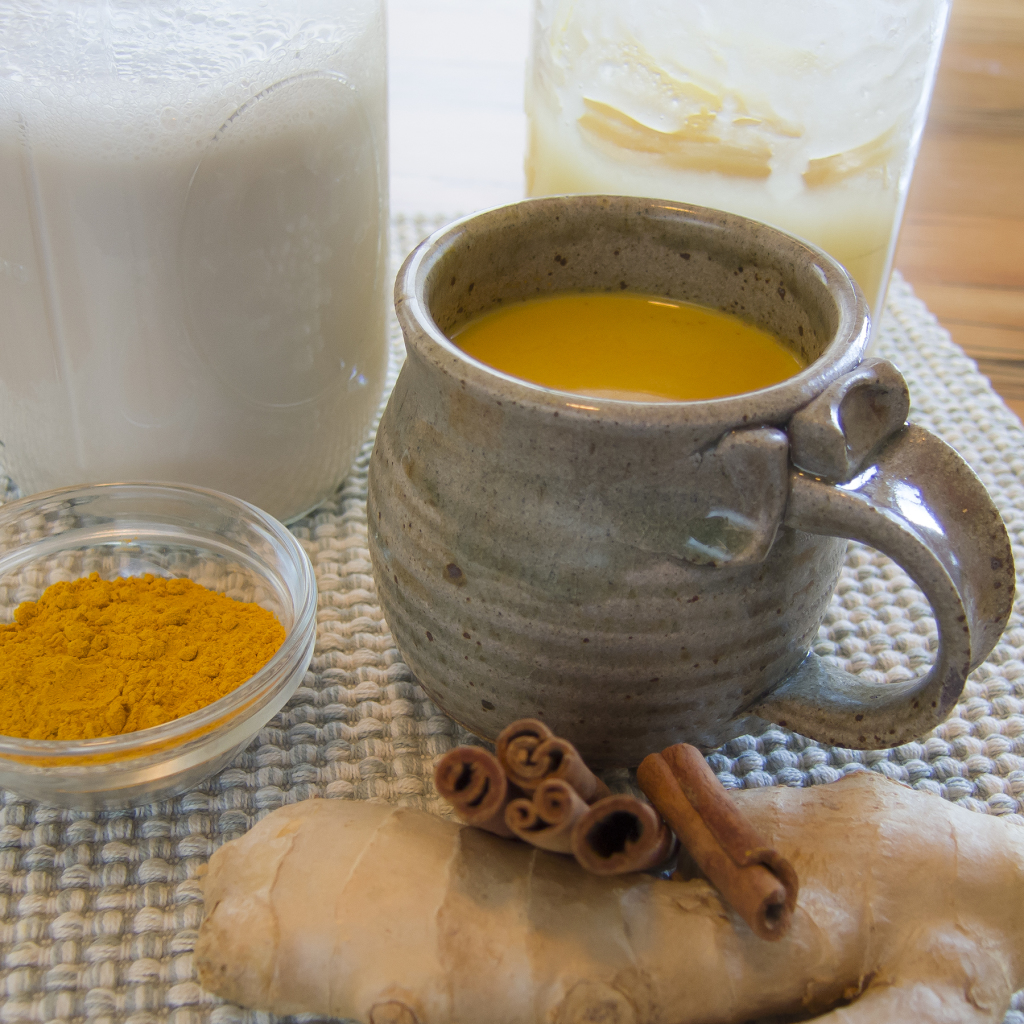 By Turi Hetherington, YM Marketing & Communications Specialist, Health Coach and Yoga Instructor
The other day my husband mentioned that his joints ached. Since he's opted to run instead of drive to and from work I wasn't surprised. The daily routine of run, sit (hunched over a keyboard staring at a computer) and then run home was taking a toll on his joints.
Rather than suggesting office yoga (a great idea, but not sure it would be well received by all office mates), I went to the kitchen, which serves as my medicine cabinet, and made him some turmeric tea. Also known as Golden Milk, this slightly sweet, spicy and deliciously creamy concoction is not only anti-inflammatory, it also supports digestive, circulatory, respiratory and immune health.
The powerhouse of ingredients in Golden Milk include turmeric, ginger, cinnamon, cardamom, raw honey and almond (or other) milk. Some people like to add cayenne, black pepper and ghee or almond oil as well. Following are a few of the health benefits of each:
Turmeric: anti-inflammatory, anti-oxidant, supports healthy digestion, immune function and even offers possible protection from Alzheimer's and cancer
Ginger: supports healthy digestion and circulation
Cinnamon: supports the immune system, circulation and digestion as well as oral health
Cardamom: supports the respiratory and digestive systems
Local Raw Honey: anti-bacterial and anti-inflammatory
All of these ingredients can be used in a variety of other culinary creations as well. Sprinkle some spices in your smoothie or on your oatmeal in the morning. Mix up a big batch of vegetable curry and freeze in small containers for easy take-to-work lunches. The main idea is to experiment and have fun with the flavors while enjoying the healthy immune boosting benefits – using the kitchen as your medicine cabinet.
Turmeric Tea/Golden Milk

24 oz almond milk
1 tablespoon turmeric
1 tablespoon finely chopped fresh ginger
1 tablespoon local raw honey
a few shakes ground cinnamon and cardamom to taste
Place all ingredients in a saucepan and stir over low-medium heat. Store leftovers in a glass jar in the fridge. Be sure to shake the jar before pouring because the spices will settle to the bottom.