by Sara Beak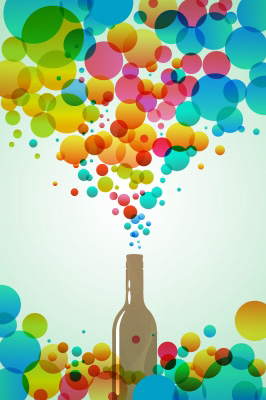 Picture this: Seven women are sitting around a large table at a dinner party, eating and drinking and chatting it up.
The first woman looks incredibly tense. She keeps checking her cell, waiting for her boyfriend to text her so she knows he got home from his business trip safe and sound. She stares suspiciously at her food, cutting into her chicken in several different places to make sure it's been cooked all the way through, and asks the waiter if the building has recently been reinforced against earthquakes. Let's call her the Paranoid Worrier.
The second woman is guzzling wine like water, swooning over the delicious and expensive meal and becoming quite emotional and theatrical as she shares all the gooey, explicit details about her last break up and the amazing post-break up sex. She also, somehow, seems to be flirting heavily with every male in the restaurant, and looking like she'd like to get it on with someone, anyone, right there on the table. Let's call her the Oversexed Drama Queen.
Woman No. 3 is simply dominating the table. She acts as though the world really does revolve around her, is completely focused on herself and her accomplishments, is always "right," and advises her friends just how they should be living their lives based on her own successes and strong opinions. She is the Power House.
The fourth woman is smiling hugely and adoring absolutely everyone and everything at the restaurant, including the waiter, the food, the napkin rings, the ceiling tiles. She pays an inordinate amount of attention to everyone, offers loving support to whomever needs it and becomes instantly teary-eyed when she notices a homeless man drifting by the restaurant window. Call her the Big-Hearted Softie.
Woman No. 5 is deciding what to order — for everyone at the table, without asking. She's loud, talks a mile a minute, continually interrupts everyone else and is generally quite tactless as she blabs on and on about the latest gossip. She's making herself hoarse, while pretty much not hearing a word her friends say. Hello, Chatty Cathy.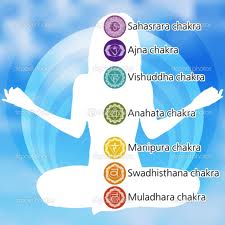 The sixth woman is looking around the table with wide eyes because she keeps "seeing things." In fact, she's picking up on the vibes of the entire restaurant, including what she swears is a ghost, or a mouse, and is feeling dizzy with all the input. She can tell when the other women are being truthful and when they're lying, and is unsure if she should offer this "wisdom" or keep her mouth shut. She is the Anxious Seer.
And finally, the seventh woman, well, she's just totally peacin' out, floating a few inches above her chair. She's off in la-la land, waltzing with angels and dancing toward Nirvana with the Buddha. She's not the slightest bit present to her friends, her food, or the reality happening right in front of her enlightened upturned nose. Let's call her Bliss Baby.

Sound familiar? Anything about these women seem to resonate? Recognize anyone you know? As you might've guessed, each of these women represent what can happen when a particular chakra – one of your body's seven vital energy centers – is out of balance and trumping the other six. (In reality, your chakras usually manifest themselves much more subtly and fluidly than the caricatures above, but these extremes make for terrific launching points).
In fact, right now, even as you read this very sentence, your chakras are swirlin' and a whirlin', expanding and contracting, responding to every little thing you're thinking, feeling, sensing, emoting, touching, seeing and tasting, both consciously and unconsciously (and you thought your cat was tuned in to you). But now that you know what having a overly dominant chakra looks like, I bet it will make your next dinner party more interesting: "Oh my God, could her third chakra BE any more bloated tonight?"
Truth is, most of us spend our days unconsciously reacting to life, instead of consciously responding to it, responsibly, in ways that empower us, and others. Learning about your personal chakra tendencies can go a long way toward resolving that. That's because chakras are like incredibly precise, glossy guidebooks to how you uniquely function, emotionally, psychologically, spiritually and even physically. As such, studying the chakras, bringing them into a healthy and harmonic balance, and even practicing how to clear, primp, open up and close down your chakras – basically, learning how to give yourself an interior makeover — can completely change your life, from relationships to career, dinner parties to how you experience divinity.
Once you become chakra savvy, you'll be astounded that you've lived this long without knowing yourself in this intimate and empowering way.
See for yourself…how is your energy body measuring up? Take this Chakra Quiz and find out!