So happy you will be joining me in this Free Webinar
SMALL STEPS – BIG DIFFERENCES
Tuesday, January 23
7:00 – 8:15 p.m. MST
You will step away from our call with key actions steps and a taste of how you can shake up your life and live with more ease.
Today.
Mark your calendar and download the Zoom application for easy viewing.   
You will also learn about the power of community and the habits of Ayurveda and Yoga.

I'll be sharing the 10 habits for vibrant, easeful living that I teach in my 12- week online course….
It's all about awakening your discerning mind (buddhi) in order to make wise choices for personal health and well being.
If you're on the evolutionary path, looking to learn, grow and evolve in real time, don't miss this. In the webinar, I'll guide you through a reflective journey to get clear on where you are and where you want to be. You'll leave the webinar with a clear action step and a plan for navigating your life toward thrive.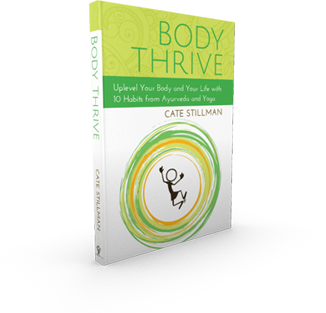 Show up LIVE to the call and you will be ENTERED to WIN a copy of BODY THRIVE – a $24 value delivered to your doorstep!
This book is a game changer for those who want to start living the habits of Yoga and Ayurveda. It is our reference for my Habit Evolution Lifestyle course, SHAKE YOUR BUDDHI.