Foundation, ALIGNMENT, Intention, Adjust, Modify, Breathe
Alignment refinement is YogaMotion's second stage to a Yoga pose.  Once you feel established on the earth with your firm Foundation, then it is imperative to realize what sort of structure you are going to build.  The primary framework of the structure is the core, known in the human body as the axial skeleton, consisting of your head and spine.
There are five basic positions of the spine – neutral, flexion (forward bend), extension (back bend),  lateral flexion (side bend), and rotation (twist).  It's best to

know what you are creating within your pose.  This is truly the first step to mindful Alignment.  Before any pose, ask yourself, "What is the structure of this form?" And then move from your firm foundation towards that Alignment.
Initiate your posture by moving the pelvis into Alignment along with the spine.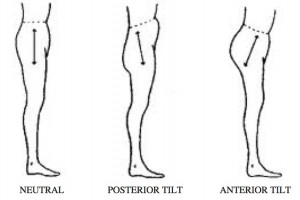 Pelvic Alignment consists of neutral, posterior tilt and anterior tilt.  Though this is often confusing at first, it is essential to understand and implement in order to maintain healthy length and space between the vertebrae.
The rule of thumb* is this: When flexing the spine into forward bends, tilt the pelvis anteriorly. When extending the spine or back bending, tilt the pelvis posteriorly.  When twisting or laterally flexing the spine, remain in neutral.
*A rule of thumb is a principle with broad application that is not intended to be strictly accurate or reliable for every situation. 
Now, consider these popular poses.  What is the Alignment of the spine and pelvis in Downward Dog? Triangle? Warrior 2?
All three of these are meant to be practiced with Neutral Spinal/Pelvic Alignment.  Yet, how many Downward Dogs do we see being stuck in flexion with heavily rounded back and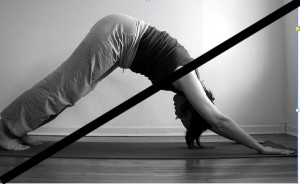 shoulders? Or Warriors that turn into backbends with the pelvis dumping forward?  Triangle often becomes a sort of collapsed forward bend as one grasps for the floor.  Are you, as a Yoga practitioner, willing to work with each pose, attending to the details of Alignment without grasping or forcing or ignoring your body into dysfunctional alignment?
What brings therapy to the practice of Yoga is patience, humility, and commitment to functional Alignment.   I encourage you to take the time to create a relationship between your body, the pose and functional Alignment, making it possible to enjoy and reap the benefits of Yoga for a lifetime.
How does this translate into Living your Bliss?  By aligning your Self with what is most authentic and functional. As our lives are in a constant motion, we are always moving either towards balance or away from it.  What moves us towards balance is that which aligns with our present physical ability, our current level of energy and emotional state, our intellectual understanding and our heartfelt beliefs.  As all of these aspects of our Self are constantly in flux, the Alignment of our daily life also requires patience, humility and a conscious commitment to that which is most true and authentic for our own body, mind and spirit, moment by moment.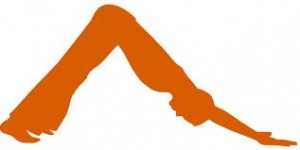 Hatha Yoga is known as the Yoga of effort, as it takes effort to maintain Alignment, strength, flexibility and stamina.  To live a Blissful life also takes a conscious effort to continually Align with all that supports your health and well being.  From effort comes results, and in the practice of Yoga, the results are a life of Living in Bliss.
Personally, I feel most Aligned with my blissful nature when I am enjoying a daily Yoga practice, eating organic, wholesome foods that nourish my body, hiking briskly in the great outdoors, resting deeply in meditation, and feeling the love between family and friends.
Are you willing to put in the effort to find Alignment in each of your yoga postures?  What is it that you ALIGN with each day that brings about a sense of balance and authentic expression?
With a strong Foundation and clarity in Alignment, we then cultivate our INTENTION, the third stage to YogaMotion's 6 Stages of an Asana and the next step to Living in Bliss.  Watch for my next article to continue exploring the journey to Well Being.
Yours in Yoga,