Unveiling Another Layer of my Heart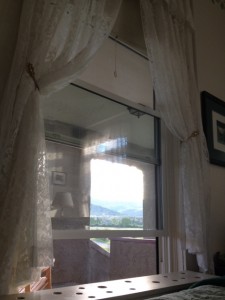 I excitedly unzipped my purple suitcase ready to inhabit my personal sanctuary for the week ahead. Six days sequestered in the heart of Peace Valley, myself residing in the guest room of the same name. High white stuccoed walls, stenciled with a wreath of green ivy at the top held two large lace curtained windows giving views to the North and East overlooking the lake below and distant rolling hills.  The brass bed was dressed in shades of teal and green floral prints with dark wood furniture accenting the richness of comfort.
I proceeded to adorn my mirrored dresser with the trinkets from my traveling altar – framed images, figurines, goddess cards, gifts from nature, all set upon a sash blessed by the Dalai Lama, a gesture to support my intentions and ground my presence in this temporary home. The drawers were then filled with my most casual, comfy clothes to support my days of lounging.
A writing desk and chair sat squarely in front of the east window with lamp and side table offering extra light and the perfect perch for my morning coffee accouterments – French roast, water kettle, coffee press and Torani's hazelnut syrup – my bad habit that I love so much. Pens, composition books, Webster's fat red dictionary, Roget's thesaurus, a copy of the Yoga Sutras and my water bottle decked out the desktop.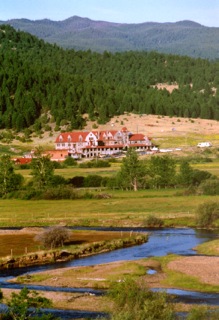 The setting provided at Boulder Hot Springs Inn could not be better suited  It's mammoth sized mission style architecture is a bit of a shock to the eye when first spotted from the Montana highway seeming so out of place because, really, it is.  Some even find it rather haunting, but I find it rich with history, intriguing stories, hospitality and healing energy. The natural hot springs are enough to convince anyone of the latter.
Our writer's first gathering was to commence in the annex, a small building located behind the main hotel. Transformed into a welcoming meeting space with Persian rug and inviting chairs of all shapes and sizes, I arrived in time to try out a few. Like Goldilocks I settled in my high backed densely padded rocker that felt just right. A wise choice as it was to be my seat for the whole of the week. Again, a settling in.
It wasn't long before the room filled and our circle complete. Seated together for the first time, a sense of anticipation filled the air, evident upon the faces of the sixteen women and men who ranged in ages spanning across seven decades. Gathered from around the globe representing Sweden, Germany, Australia, Canada, Wyoming, and two of us from Montana, we shared a similar desire to call forth the power of the pen to express our innermost stories, messages, imaginations, humor, and perspectives.
The catalyst for this event was Dr. Anne Wilson Schaef, a highly respected author, native elder, leading spiritual teacher. and the visionary who purchased the nearly condemned Boulder Hot Springs Hotel in 1989, saving it from ruin. Along with her extended family and the local community, she has been slowly yet surely restoring and refurbishing the entire structure ever since. A true labor of love.
I first met Anne as the key note speaker for the Celebrating Women's gathering last Fall at her beloved retreat center. I immediately resonated with her somewhat brash and oh-so-truthful demeanor. Here was a woman who didn't mince her words. She was bold, confident, and proud while sharing her thoughts and messages with deep love and humility. I knew there was much to learn from this jaunty 80 year old soul, so when she announced the writer's retreat, there was no doubt about reserving my place.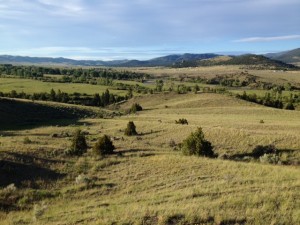 Montana's spring weather blanketed us in clouds and rain with occasional bursts of sunshine. The cold dampness remained throughout the week creating an atmosphere conducive to lounging, soaking, sleeping, dreaming, doodling and oodling (as Anne would say). The role of time spent doing what may seem like nothing is to a writer, everything. Unfettered time is what allows the creative to come forth, an aspect of self that cannot and should not ever be forced.
And so it went each day. A gathering was held to share our personal process of becoming the writer that we are. First given prompts from Anne that required new angles of the imagination followed by hours of being present with the creative process then reconvening to share what was written. It was delightful how each writer's work, stemming from the same first line, unfolded in completely diverse ways.
Anne's teaching entwined all of this. So much more than writing prose and poetry, this retreat was an opportunity to develop a deeper connection to the heart, and through that portal, allow the sharing of thoughts, concepts, and experiences to be portrayed. Most importantly, I learned that writing is not to be written with the intention to create a specific feeling for the reader. Writing is an invitation into the feeling of the author along with the invitation for the reader to feel more within themselves.
I found myself to be the catalyst to this teaching after sharing a reading that I thought to be representative of  the message I wanted to convey. At the end of my reading, there was a long pause akin to the calm before the storm. And then the flood of criticism poured forth. Shot down completely by both Anne and my peers, not only at the length of my reading, but what became labeled as persuasion and manipulation. The critique of my work dredged on for forty minutes with Anne's harsh lecture directed not only at me but using my piece as an example for everyone to be more diligent with the integrity of all that is written. "Avoid what is not truly genuine and never try to convince anyone of anything. Writing, whether fiction or non-fiction, needs to remain in it purest form as the authentic experience of the writer," encouraged Anne. Her teaching offers a lesson in not only the way we write, but in the way we live. Authentically. Non-dualistically. Avoiding the pitfalls of persuasion, manipulation, and coercion in every situation.
In the heated moment of this honest feedback, my defenses were challenged. At first feeling ostracized with ridicule, my instinct was to run. How easy it would be to pack up my bags and head home.  My ego schemed with ways and reasons to flee. Yet, I knew I was there to learn and discover what I  could not see in myself. You don't step into the fire to get warm. You step into the fire to burn, for it's in the burning that a new way is forged. Like hot iron, we soften and bend and transcend rigidity, being shaped and reformed so that we may emerge with another layer of ourself transformed.
Rumi says, "Tear off the bandage and do not look away, as this is where the light enters us."  Vulnerability is like that. Exposing our heart and soul to both our small self and, here in retreat, to a small circle of strangers who became kindred spirits in just a matter of days. The joining of thoughts, words and actions allow truth to tumble forth in all its sweetness and bitterness. Truth, offering the sweet pain of being fully alive in the perpetual flow of healing, learning, and growing.
And so it was with my week of retreat that the burning away of unconscious patterns has healed another layer of my heart allowing me to learn and grow as a writer.
I came away, not with answers, but with questions.
How do I share without coercion?
How do I educate and not manipulate?
How do I inspire without persuasion?
I shall hold these questions in the forefront of writing for my true desire is to share from my heart, educate from my own research and experience, and to inspire from a  place of love.
Ask yourself today, in what ways do you nourish your own creativity? Are you allowing yourself the time to doodle and oodle in life? Perhaps drawing, painting, dancing, playing music, planting a garden?
Mark Rutherford writes, "There is  in each of us an upwelling spring of life, energy, love, whatever you like to call it. If a course is not cut for it, it turns the ground around it into a swamp."
What is upwelling in you?
What channels are you cutting to allow your own creativity to flow forth?
Start today.