The Eight Limbs of Yoga: An 18-part mini-course
WEEK SEVENTEEN: SAMADHI
Union with Divine Consciousness
– SUTRA III.4
A STATE OF TOTAL EQUILIBRIUM AND BLISS
Speaking about Samadhi is like trying to explain that which is beyond words. It is not something that can be attained easily nor explained easily. Freedom from suffering has served as my best attempt to define a state of being where one is at peace with themselves and the world. No matter what the circumstances, good or evil, one remains in a state of total equilibrium accepting the rise and fall of life's experiences with an attitude of complete surrender to the truth of each moment. This is the intentional goal of a Yogi; to live in a state of equanimity and bliss. Not easily attained within our human life span, yet certainly the highest virtue to move towards.

Our practices of all the other seven Limbs of Yoga offer us the tools by which to move in this direction, perhaps even experiencing glimpses of it in our own life. I believe I have. I'll share that story at the end of this article. First, I'd like for you to read this excerpt from Sri Chinmoy's blog on the subject. It's a lot to absorb, and I feel it's worth reading to truly see the meaning and the inspiration that drives many of us forward on this path of Yoga.
Abridged excerpt from Sri Chinmoy's article on Samadhi:
Samadhi is a spiritual state of consciousness. And with all yoga philosophy there are various layers of Samadhi itself. Among the minor samadhis, savikalpa samadhi happens to be the highest. Beyond savikalpa comes nirvikalpa samadhi, but there is a great gulf between these two: they are two radically different samadhis.
In savikalpa samadhi, for a short period of time, you lose all human consciousness. In this state the conception of time and space is altogether different. For an hour or two hours you are completely in another world. You see there that almost everything is done. Here in this world there are many desires still unfulfilled in your self and in others. Millions of desires are not fulfilled, and millions of things remain to be done. But when you are in savikalpa samadhi, you see that practically everything is done; you have nothing to do. You are only an instrument. If you are used, well and good; otherwise, things are all done. But from savikalpa samadhi everybody has to return to ordinary consciousness.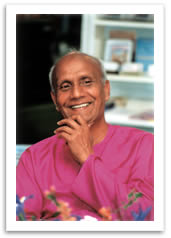 In savikalpa samadhi there are thoughts and ideas coming from various places, but they do not affect you. While you are meditating, you remain undisturbed, and your inner being functions in a dynamic and confident manner.
When you are a little higher, when you have become one with the soul in nirvikalpa samadhi, there will be no ideas or thoughts at all. In nirvikalpa samadhi there is no mind; there is only infinite peace and bliss. There nature's dance stops, and the knower and the known become one. There you enjoy a supremely divine, all-pervading, self-amorous ecstasy. You become the object of enjoyment, you become the enjoyer and you become the enjoyment itself.
Nirvikalpa samadhi is the highest samadhi that most realized spiritual Masters attain. Generally, when one enters into nirvikalpa samadhi, one does not want to come back into the world again. If one stays there for eighteen or twenty-one days, there is every possibility that the soul will leave the body for good. One cannot operate in the world while in that state of consciousness; it is simply impossible. But there is a divine dispensation. If the Supreme wants a particular soul to work here on earth, even after twenty-one or twenty-two days, the Supreme can take that individual into another channel of dynamic, divine consciousness and have him return to the earth-plane to act.
Sahaja samadhi is by far the highest type of samadhi. In this samadhi one is in the highest consciousness but, at the same time, one is able to work in the physical world. One maintains the experience of nirvikalpa samadhi while simultaneously entering into earthly activities. One has become the soul and, at the same time, is utilizing the body as a perfect instrument. In sahaja samadhi one does the usual things that an ordinary human being does. But in the inmost recesses of the heart one is surcharged with divine illumination. When one has this sahaja samadhi, one becomes the Lord and Master of Reality. One can go at his sweet will to the Highest and then come down to the earth-consciousness to manifest.
Even after achieving the highest type of realization, on very rare occasions is anyone blessed with sahaja samadhi. Very few spiritual Masters have achieved this state. For sahaja samadhi, the Supreme's infinite Grace is required. Sahaja samadhi comes only when one has established inseparable oneness with the Supreme. He who has achieved sahaja samadhi and remains in this samadhi, consciously and perfectly manifests God at every second, and is thus the greatest pride of the Transcendental Supreme.
---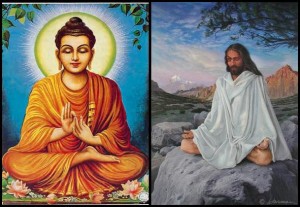 Sounds like Jesus Christ and the Buddha to me offering their teachings from the realm of Sahaja Samadhi for they were perfect instruments of God offering their divine illumination to the world.
And are not the teachings of these Divine Beings what many of us strive to be in our life; to live in a state of equanimity, and offer our gifts, our dharma, to the world? Their teachings and actions are examples of our true nature, and we, as yogis, spend our own life unfolding the layers of our humanness to discover that very Light within.
At the age of 22 I was deeply embedded in the study of massage therapy and holistic health at Heartwood Health Institute. After months of personal inquiry and bodywork, I found myself in a state of rebirthing while receiving energy work. I went through minutes of what seemed like hours in a dream state recalling my choice to enter this world. Whether imagined or real, it doesn't matter. My soul awakened to the realization that I stepped into this life on purpose. There are no mistakes. There is no victim. This is your dharma. I accepted all the good, all the bad, and all the evil. And I was here to live this life with love and acceptance.
Following that meditative explosion of spiritual awakening I walked to the nearby beach in state of bliss so profound I felt every molecule of life surrounding me. I felt the earth, the water and the sky within my being. There was no separation of myself with the elements. I felt the wings of the birds in the sky, the movement of the people walking by. There was only infinite peace and bliss in my heart, an all pervading, self-amorous ecstasy and union with God.
In reading Sri Chinmoy's description, perhaps this was a state of Samadhi, or at least a sweet taste of its beauty. This state of Being lasted the afternoon and then I returned to the earth-plane.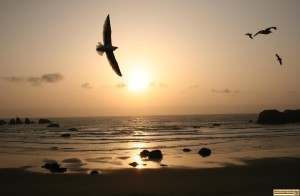 I feel so blessed to have had this very stirring experience that brought me into a state of oneness with my own soul and into a state at total peace and oneness with the world around me and God's infinite love.
Back from that journey, I have carried its gift with me throughout my life. And when I feel the challenges that come with being human, I remind myself, we are instruments of God, so act like one. Easier said than done, yet a marvelous means for navigating life on Earth.