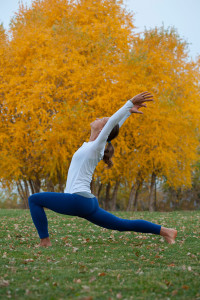 Teaching yoga, for me, is so much more than a "job." It is a journey of personal growth. It's the biggest, yet smallest, step of my journey as it's a journey inward – exploring who it is that occupies this body and what I have to offer to make my being here worthwhile.
Many think of yoga as a physical practice, with bodies twisted into pretzel like poses or arm balances for social media selfies. The poses, asana, are a part of it, but there is so, so much more. Patanjali's eightfold path is a way of life, a way of being in this world. Ever since my first yoga class at a gym nearly two decades ago I knew I wanted more. It was the missing piece or more like the compass that helped all the pieces fall into place (sorry for the mixed metaphor :O). Yoga – to yoke – pulls it all together.
In Patanjali's Yoga Sutra, the eightfold path is called ashtanga, which literally means "eight limbs" (ashta=eight, anga=limb). These eight steps basically act as guidelines on how to live a meaningful and purposeful life. They serve as a prescription for moral and ethical conduct and self-discipline; they direct attention toward one's health; and they help us to acknowledge the spiritual aspects of our nature.
When I quit my job as a director of a non-profit a couple years ago to make yoga my full-time gig I didn't realize just how challenging it would be to walk this path (kinda like parenting). I also didn't realize how rewarding it would be (also like parenting). Bringing a little bit more peace, a little bit more joy, and little less suffering into people lives is deeply rewarding.
Yoga also teaches me to be vulnerable. Not knowing if will I meet my students' needs keeps me reaching for more and continually brings me back to Patanjali's first yoga sutra…
1:1 ATHA YOGA ANUSHASANAM
At last, we have finally arrived at this most auspicious moment. Verily, it has taken our entire lifetime to come to this point, where we accept the invitation to follow along with the process of Yoga, and smooth out the rough edges of the personality. This awakens a deep feeling of love and respect for those who walked the path before us, and shed the light that we might follow.
(Sutra translation from Bhavani Maki's The Yogi's Roadmap)
Namaste yogis.
Turi teaches weekly vinyasa flow classes at Mountain Yoga and the Bozeman Public Library and subs at the Cancer Support Community. She is also YogaMotion Academy's Executive Assistant and owner of Molte Wellness & Adventure offering trail running, hiking, yoga and meditation retreats in the mountains of Montana.