The 6 Stages of an Asana –
Foundation, Alignment, Intention, Adjust, MODIFY, Breathe
mod·i·fy
make partial or minor changes to (something), typically so as to improve it or to make it less extreme.
synonyms:  alter, change, adjust, adapt, amend, revise, reshape, refashion,restyle, revamp, rework, remodel, refine
And so it goes with a Yoga pose.  Are you willing to MODIFY your asana to meet your needs and abilities?  Or do you find yourself struggling to attain what you think you "should" be doing or what someone next to you is doing?  If you are struggling, then your practice is Yoga no more, for Yoga itself, the union of body, mind, and spirit, is only attained when there is balance between right effort and peaceful ease.
To MODIFY your Asana practice, props can bring the support  you may need to maintain and enhance the functionality of the form. Whether its a block, a blanket, your own body (hand on leg) or even a wall, MODIFYING the pose to meet your needs is wisdom in action. It may even mean doing something that looks very different from others sharing the same practice, yet the primary intention can still be shared and supported, whatever it is.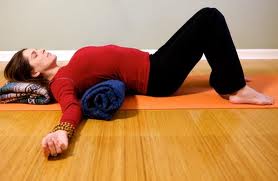 In example, if our focus is on backward bending and you have a disc injury, then perhaps we find that laying on a blanket on the floor  with your knees bent brings an opening to the front of your spine that feels safe and effective.  Meanwhile your neighbor on the next mat, who is fifteen years younger and hyper flexible, is learning to push up into a back bend while keeping her core muscles engaged so that she doesn't over stretch .  Can both practitioners find the joy in the practice at the same time?  Absolutely.
My friend E is the Queen of MODIFICATION.  She has been practicing Yoga with me for many years, even after an accident that left half of her body semi-paralyzed.  She shows up to my active classes, and we work together to help her MODIFY when necessary.  Adapting, revising and altering her practice, she remains an equal participant in the circle of practitioners.  She is a wonderful inspiration to those around her. Like wise, she is inspired by the group dynamics and often goes beyond preconceived ideas of expected possibilities.
If you find yourself struggling to "get" a pose, or avoiding it because you don't believe you can "get it", then may you consider implementing these SIX STAGES OF A POSE, especially MODIFICATION,  as they offer you a ways and means to bring balance into your application of Yoga Asana. Allow yourself to MODIFY what you are doing so that what you are doing is in alignment with what you are feeling, and what you are thinking.  And that, my friends, is the experience of YOGA.