We Acknowledge and Express our Super Powers
By Nancy Ruby, E-RYT500, YogaMotion Founder and Director
"If you bring forth what is within you, what you bring forth will save you;
if you do not bring forth what is within you, what you do not bring forth will destroy you."
~ Gnostic Gospel of Thomas
Are you bringing your best self forward?
Or are you shirking back from what lies within your heart to live out some expectation of how you think you should be or how someone else has been telling you to be? Or perhaps your true calling has simply never been acknowledged as such.
Is there a fear that is holding you back from expressing your own unique God-given gifts? Perhaps you are wondering what the heck is my God-given Gift? Do I have one? Of course, you do! We all do.
Within the teachings of the Yoga tradition we call this Dharma. Your Gift is your unique talent, your creative offerings, your true path, your sacred duty. It means your TRUTH. Being true to yourself and living your truth.
Yoga philosophy proclaims that every human being's duty is to utterly, fully, and completely embody their own idiosyncratic dharma. We, of the YogaMotion Collective, refer to this path in our values statements as:
Acknowledging and Expressing our Super Powers.
The power within that brings more peace, more joy, more love into the world and more fulfillment into our own heart and soul.
The second half of the quote above truly drives home the tragedy of not living our truth. If we do not claim and offer our Gifts to the world we suffer. This is a harsh reality to accept. So often we prefer to blame others or our circumstances for our suffering. There are endless excuses for not being happy, for not feeling at peace, for not being who it is we really want and are meant to be.
Stephen Cope, author of The Great Work of Your Life, suggests this personal experiment:
Stop reading for a minute, and ask yourself these questions:
Am I living fully right now?
Am I bringing forth everything I can bring forth?
Am I digging down into the ineffable inner treasure-house that I know is in there?
That trove of genius?
Am I living my life's calling?
Am I willing to go to any lengths to offer my genius to the world?
Whoa! Did you just want to shut down and stop reading? Are you shuffling your feet, mumbling well, yeah, sort of, gee, I don't know, what the heck? I'm just doing the best that I can. Are you really? Doing your best?
Do you wake up in the morning ready to leap into the new day? Or are you giving all you've got but feeling burned out and frustrated? That would be sign that you are on the wrong path. Someone else's. And it would behoove you to redirect yourself onto the road less traveled – your own.
Whenever I hold a training, a retreat, or a course of any type, I always ask, "What are you here for?" And inevitably the most common response is, "I want to take better care of myself."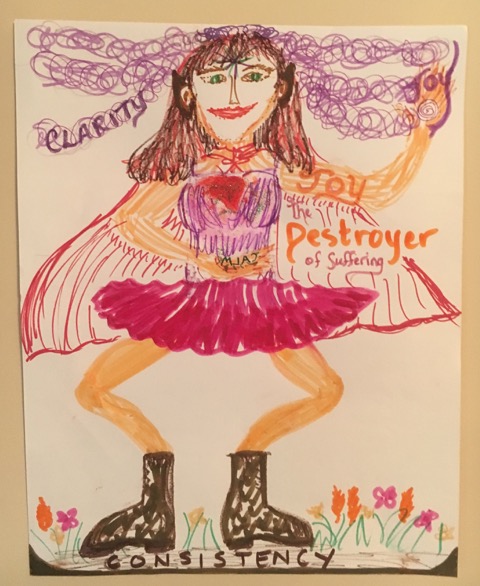 My job is to help people identify and remove the distractions and disturbances that are keeping them from themselves. My Super Power is JOY. I am Joy the Joyologist, Destroyer of Suffering. I use my genius of clarity, consistency, and calm to help bring forth the Super Powers within everyone.
I am curious about why so many are avoiding self-care when the most effective way we can operate in this life is to do just that? Taking care of ourselves is the only way to authentically, wholeheartedly offer our Super Powers to others. If we fail at self-care, what is within us gets covered up in the muck and mire of our own suffering and the quality of our life is destroyed.
"…if you do not bring forth what is within you, what you do no bring forth will destroy you."
Ouch.
How do we bring these Super Powers forth?
You listen. You feel. You notice when your heart opens and your eyes light up. You acknowledge and express your uniqueness.
It could be when you prepare a beautiful meal for your loved ones, paint a picture, play an instrument, write a poem. Or perhaps your light shines when you raise funds for animals, research a science project, give a talk on global economy. There is no one way. And there is no measurement of greatness. Your Super Powers – your genius, is simply and unequivocally Great in and of itself.
"Be resolutely and faithfully what you are," wrote Henry David Thoreau – not who you think you should be.
Since self-care is the path to discovering and owning your genius – carve out some quiet time each day. Ten minutes a day to reflect on the questions above.
Be patient. Be present. Feel into your heart and rely on your best Self to acknowledge and express your Super Powers. And with that, your Super Powers will radiate as a gift to the world.
If you want support and encouragement, I am here to help.
I invite you to begin with my Ignite Your Life Challenge. Available for 5 more days.
Your in Joy,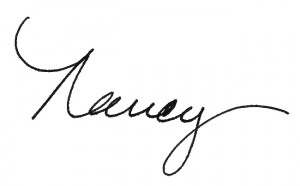 PS – Here' something else that's fun. Discover your personal strengths with the DISC TEST. It's free.
#8 We Acknowledge and Express our Super Powers
Read about all our values here >>>