The Eight Limbs of Yoga: An 18-part mini-course
WEEK FIFTEEN: DHARANA
The binding of the mind to one place, object, or idea.
– Sutra III.1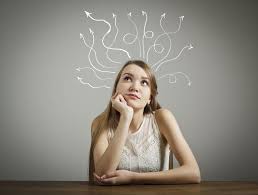 My business coach is politely asking me if I would be open to a diagnosis for ADD so I could go on medication to help me focus more easily. I chuckle to myself knowing that my blog topic this week focuses on Dharana – Concentration. Life's timing unfolds in these perfectly symbolic moments. In this moment I had hit a wall of frustration in my capacity to manifest my dreams in the timeline I expected. Ha! Not living up to my own expectations. Can you imagine? Have you ever felt that way?
What we envision and what we can actually manifest are often at odds with one another. My tendency towards distraction – the internet, house cleaning or any mundane task that is easily checked off the to-do list – seems to be the culprit to my lack of completion on the larger, more creative projects. Dharana is the practice of training the mind to remain focused on one place, object, or idea. This concentration is the beginning of meditation; meditation is the culmination of concentration.
What was my response to the diagnosis question? No, thank you. My medication for concentration is to keep practicing meditation, along with movement, healthy meals, and an enforced timeline. The proliferation of diagnosis treated with pharmaceuticals is rampant. It's time we apply our own medicine. Yoga points to the importance of Dharana, which is also translated as Gathering consciousness and focusing it within. It is quite normal that our mind runs here and there. When we try to fix it on one thing, within a fraction of a second we see it somewhere else. Those Yogis discovered long ago that this would be a challenge for the human mind. Gathering consciousness can often feel like trying to herd cats. The mind is a wild and sometimes dangerous thing, running rampant and refusing to be tamed.
Just how do we strengthen our ability to focus? Interestingly enough the last three limbs are not in the same category as the first five, which are considered practices for cultivating spiritual awakening. The last three branches, Concentration, Meditation and Liberation are not practices in themselves: rather, they are progressive internal spiritual states that evolve from the earlier cultivated, more pragmatic practices.
The first two limbs of the Ashtanga (eight-limbed) Yoga philosophy, Yamas and Niyamas, remind us of the importance of right attitude and right action for developing reverence and respect for others and ourselves. Through the practice of Asana, the third limb, we develop a strong, supple body that is capable of sitting still with comfort. Pranayama, the fourth limb, gives us the ability to channel our life force by breathing deeply and evenly thus bringing ease to mind and emotions. As stated in last week's teaching on Pratyahara, the fifth limb, our senses draw inward to reduce outer distraction.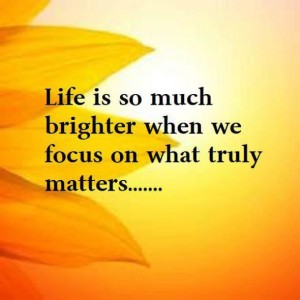 Each of these limbs, when practiced with dedication and respect, naturally lead us to the threshold of liberation from disturbances. It is within this state that our mind is able to concentrate, perhaps better described as contemplate, which relates more appropriately to an easeful awareness prompting the flow of consciousness to return to its source – our own true nature.
When we take into consideration our own tendencies toward distraction, such as my multi-tasking on the mundane while postponing the more significant dreams of my heart, we need a roadmap to guide us back home to ourselves. This is why Yoga is called a practice as it takes consistency with the inner practice to affect our outer actions.
Practicing right attitude and action is a daily effort with plenty of opportunities to remind us of its importance, just like my breakdown last week in my "not good enough" state of mind. Being disappointed in my own efforts shed the light on my lack of focus within my own timeline. I had to admit, mostly to myself, that sitting around sipping coffee while surfing the internet in my bathrobe half the morning was not serving my deepest desires.
Keeping our bodies strong and resilient takes consistent dedication. Another area I have had to look at closely. I found myself believing that I was practicing yoga "all the time" because I am living yoga all the time. However, to stay in peak physical condition, I needed to kick my own ass into a more challenging routine. Meditation, my preference these days, does not build physical stamina. Wake up call heeded – time to refocus my energy in the direction of physical fitness.
And as for channeling our life force, prana, we not only need to breathe deeply, we also need to ingest some prana in the form of whole-life giving meals. Breath is great, but so is food. I know there are a few breatharians in the world, but I shouldn't be one of them. My tendency to skip meals, and even forget to drink water, does not serve my ability to concentrate. That's simply a bad human habit. And I have to admit it so I change it.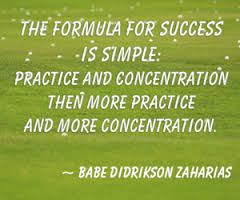 So goes the continuum of the Eight Limbs of Yoga as a valuable, and necessary, path to well being in body, mind and spirit.  They each support the other in our journey toward liberation from suffering and spiritual awakening.
To develop the art of concentration try the practice below. If anything, it's quite entertaining to watch the mind running, you bringing it back; its running, you bringing it back. It takes taming, until finally you will be able to stay focused. It's as easy as herding cats. Eventually my own cats do follow me down the path when the timing is just right. Keep practicing and the ability to train your mind to meditate will appear. Enjoy.
EXPERIENCE CONCENTRATION (DHARANA) THROUGH THIS GAZING PRACTICE – TRADAKA.
Choose an inspirational object, a lit candle, a photo, flowers, the sunrise or sunset or anything that uplifts and evokes a quiet, peaceful feeling. Sit directly in front of it so it is at eye level, close enough for you to see the form and feel its qualities
Close your eyes. Take in a few breaths and let them out slowly as your body settles.
Slowly open your eyes halfway. Begin to gaze at your object; the eyes and eyelids remain relaxed and soft. Resist the temptation to reach out and grasp the image with your vision. Instead, keep your eyes soft allowing the image to flow toward you.
At first your eyes may wander. Gently bring them back to the object. Breathe deeply and gently. Observe the details of the image until you feel you see it clearly. Then close your eyes and observe the image as it now appears in your mind's imagination. Perceive the same qualities as you go deep within.
When the inner image begins to fade, open the eyes again and gaze toward the external object. When the mind starts to wander and bring in stories about the object, or something unrelated, gently bring your awareness back to the object in front of you.
Repeat this sequence several times, gazing outward and gazing inward. Let all thoughts and feelings drift into the background as you contemplate your sacred object.
If any tension creeps in, take a few deep breaths and let go.
After a few minutes, allow the eyes to close, drawing deep within. Clearly "see" the image with the inner eye. Be silent for a few minutes and enjoy the inner stillness of Dharana.