Strength in numbers.
The more the merrier.
Alone we can do so little; together we can do so much.
We have heard these adages forever.
Having grown up in the company of seven siblings, I have always felt at home encircled by what I fondly term 'tribe.' There is an energy that arises as individuals feel a part of something bigger than themselves.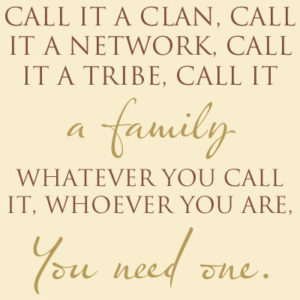 Trust is built with this sense of belonging that encourages deep connection and authentic expression. Opportunity arises through the exchange of uncensored ideas and dreams. When this container of support is held with love and compassion, the growth and creativity that occurs can be prophetically powerful. It's not a surprise that this gathering of people into circles is a large part of my personal dharma – my purpose in life.
I have seen the unveiling of the sweetest and deepest of secrets that bring healing and connection among individuals. Desired changes and personal evolution are met with so much more success than going it alone. In fact, to make a change in your life, you will have a 70% higher success rate when you are supported by a group. People in groups evolve faster when they're with others focusing on similar goals.
If everyone is moving forward together, then success takes care of itself.
— Henry Ford
Since the start of this year I have been immersed in the spirit of Tribe more than ever, from yoga teacher trainings to advanced studies, superfood networks to seasonal cleansing, yoga health coaching and habit evolution. My own learning and growing edges are exponentially expanding due to the interconnectivity of like-minded people. Conversations are rich with action steps taking place through very little effort. Sometimes I sit in the seat of the teacher, other times I sit at the feet of my teachers. And in each position, there are lessons learned and evolution experienced personally, professionally, and globally.
With all this growth happening, YogaMotion Academy is bursting at the seams with creative opportunities to expand our community, offering you a variety of ways to be supported by Tribe. Being the sole founder and director over the past 33 years, YogaMotion has literally outgrown me! Dedicated to quality service and continual connection, I am pleased to announce the expansion of our inner hub –  The YogaMotion Collective.
You will be introduced to our wise women's circle over the next few weeks as they share their stories and visions for personal and planetary evolution and the roles they will be fulfilling in the YogaMotion Academy. I am tickled to be developing this co-creative process with the women who, over the years, have enriched the quality of my own life. With like-minded intentions, complementary skills, and diverse expertise, this hub of the wheel is ready to expand our circles of support to the greater community – which is you!
You may have heard the statement from Jim Rohn,
"You are the average of the five people you most associate with."  
Who are you most involved with these days?
Are the people that surround you bolstering your fullest potential?
Are you feeling upheld to be your most authentic, creative self?
Do you have the desire be embraced by a tribe that inspires you to live a vibrant, easeful, soulful life?
We, at the YogaMotion Academy, are here help by adding a ring of support to your experience of Tribe. One that is focused on elevating consciousness through integrative wellness education and mindful practices, enriching individual lives so that we may better serve the world.
Individually, we are one drop. Together, we are an ocean.
— Ryunosuke Satoro
Thank you for being a part of our Tribe. May we continue to evolve together.