Connecting and learning with others of similar interests brings about a more integrated yoga practice.  Through sharing we learn compassion, empathy, forgiveness and acceptance both for others and within ourselves.  From this place we can return to our daily lives with a sense of belonging feeling inspired and energized.
_____________________________________  
5-Day New Year Immersion:
Resolve to Evolve
JANUARY 6-10, 2014
Monday-Friday, 8:30-10:30 am.
Montana Movement Arts Center
$90 for full immersion; $20 drop-in

Moving the Mountain Workshop

JANUARY 18, 2014
Postural assessment and alignment at the Ridge Athletic Club
10:15 am – 1:00 pm
More details coming soon!
SAVE THE DATE!
Annual Women's Weekend Wellness Retreat:
The Incredible Lightness of Being
March 20 – 23, 2014 
This year held at Boulder Hot Springs, Montana
TAKE A PEEK AT THIS VIDEO AND ALL THAT WE ENJOYED in 2013… CLICK HERE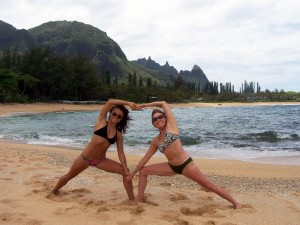 Life Enrichment Retreats in Kauai, Hawaii
Watch for April and June 2014 Kauai dates to be announced soon!
SAVE THE DATES!
Mark your calendars for upcoming 5-day Immersions:
March 10-14, 2014 – Spring Break 5-day Immersion
May 5-9, 2014 - May 5-day Immersion
Also be sure to check out the latest YogaMotion classes and specialty courses>>