Lisa Moore shares her Journey with Yoga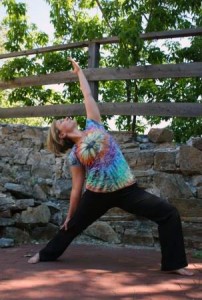 My mentor teacher and I were catching up before class one day, updating each other on what was happening in each others lives, when a student who'd overheard quipped, "Yoga teachers don't have problems."  Whoa – even though it was said in jest, it fit right in with the same line that repeats in my head, 'Hypocrite – you're not good enough to be a yoga teacher.'
I try to resist the guilt of teaching yoga and not being the perfectly enlightened being I think I should be. When I found myself mired in a dark trough this winter, wanting to curl in, tune out and not feel the pain of transition, I remembered. I began gradually back bending, opening my heart to feel what was there, not what I thought I should feel. Then Nancy gently reminded me of Rumi's words, of  'the astonishing light of my own being' and I headed back towards balance.
I'm a part-time yoga teacher and a full-time literacy specialist at Morningside Elementary in Great Falls. I teach 2 – 3 yoga classes weekly at Yoga for Wellness, Pamela Quinn's studio (another YogaMotion graduate). Two of the classes are funded through the school district's wellness program. Previously, those classes were held at schools, where we may or may not have had a clean, quiet space to practice. It's been so great to hold the classes at a yoga studio!  I also sub for Pam and assist in her burgeoning intro classes. I am also my school's student wellness advocate. I teach before-school yoga for K-6 graders with 5 – 25 wtih attending each week.
Teaching teachers is rewarding and challenging. Teachers are always willing to try, but they can find it difficult letting themselves relax. I focus on creating an atmosphere where they can give themselves permission to just be at peace. Kids' yoga creates a positive outlet for all their energy. I teach them how to calm themselves yet remain alert and ready to learn. Focus and balance have been recurring themes in this weekly reminder to value playtime. In all my classes my intention is to get students to go within, to reach beyond, to explore what's available – in body, mind and spirit.
My solid foundation has come through my mentor, Pam, who is in a direct line to YogaMotion. My YM training has given me confidence in my teaching ability. My yoga mat at home is surrounded by powerful and insightful resources, books to study for my practice and teaching, reminders of my true self. More vital to me is the support Nancy shares – for self-care, self-exploration, gentle reminders to remove the veils that cloud the light of my true self. And when I remember and use these, I can't help but shine that light and share it with others. I'm a human being, perfectly imperfect just as I am, stumbling across grace now and then on my journey in and out of and back towards balance.
Lisa Moore, YogaMotion graduate 2012