YogaMotion's Teacher Certification Program is taught through nine modules as outlined below.
Modules 1 – 3 offer you quality guidance and support for enriching your own life through personal practice, a broad spectrum education, and lifestyle skills integrating the full spectrum of yoga .
You will refine your professional teaching skills in Modules 4 – 9  focusing on assessment, communication and presentation techniques serving a wide variety of demographics.
The YOGAMOTION TEACHER CERTIFICATION enables you to provide a deeper integration with the true spirit and essence of yoga offering a broad array of tools to enhance well being on all levels: physical, energetic, psycho-emotional, intellectual, and spiritual. Be of service in your own community as a professional educator in holistic health and well-being
Once you have completed all 180 classroom hours and home study assignments, you will receive your 200 hour Certification from YogaMotion and the ability to apply to the National Registry with Yoga Alliance as a RYT200 – registered Yoga teacher.
DAILY SCHEDULE:
WINTER 2018 TRAINING (6 months)
January – June 2018

1st Immersion: Modules 1 and 2: January 10 – 15
Module 3: February 9 – 11
Module 4: March 9 – 11
Module 5: April 6 – 8
Module 6: May 4 – 6
2nd Immersion: Module 7 and 8: May 30 – June 3
Module 9: June 29 – July 1
IMMERSION SCHEDULE:  40 hours
Wednesday  1:00 PM – 8:00 PM
Thursday  8:00 AM – 6:00 PM
Friday  8:00 AM – 6:00 PM
Saturday  8:00 AM – 6:00 PM
Sunday  8:00 AM –  4:00PM
MODULE SCHEDULE: 20 hours
Friday 4:00 PM – 8:00 PM
Saturday 8:30 AM – 6:00 PM
Sunday 8:00 AM – 4:00 PM
Fall 2018 (9 months)
September 2018 – May 2019
One Weekend per month for 9 months: 
Friday 4:00 pm – 8:00 pm
Saturday 8:30 am – 6:00 pm
Sunday 8:00 am – 4:00 pm
Download a current FALL 2017-2018 detailed schedule here >>>

Schedule your 20-minute complementary Clarity Call Today.

Module 1: Earth
Growing Your Roots
Annamayakosha – The Physical Body
History and Philosophy of Yoga
Relaxation and Breathing Techniques
Yoganatomy for Functional Alignment
Developing Core Connections
Designing Your Personal Practice
Module 2: Water
Awakening the Flow
Pranamayakosha – The Energy Body
Pranayama Langhana – Gentle Power of Breath
Universal Principles of Alignment
Yoganatomy of Hips and Legs
Standing and Balancing Postures
Developing Strength and Grace
Module 3: Fire
Igniting Transformation
Manomayakosha – The Emotional Body
Integrating the Eight Limbs of Yoga
Sankalpa – Setting Intention
Yoganatomy of the Trunk and Spine
Forward Bends and Hip Openers
Developing Will and Determination
"A positive experience – my knowledge of yoga was limited even though I taught 4 classes a week. I have increased my knowledge of how to put my students into postures and what to look for to help them improve. My own practice has improved dramatically. I feel more confident in teaching."
Pat Ashe Butte, Montana
Module 4: Air
Savoring the Essence
Vijnanamayakosha – The Wisdom Body
Student Teaching Exchange
Intro to Yoga Nidra
Yoganatomy of Chest and Shoulders
Heart Openers, Backbends and Twists
Developing Heart-centered Beliefs
Module 5: Sound
Liberating Creativity
Anandamayakosha – The Bliss Body
Sutras, Mantras and Mudras
Journey through the Chakras
Yoganatomy of the Organs and Glands
Introducing Inversions
Developing the Essence of our True Nature
Module 6: Vision
Expanding Insight
Refining Insight and Eyesight
Restorative Yoga Techniques
Implementing Yoga Nidra
Compassionate Communication Skills
Creating Daily Rituals
Developing Your Personal Vision
"Seek the grandest version of the greatest vision of who you choose to be."
– Neale Donald Walsch
Module 7: Knowledge
Blossoming Wisdom
Refining Assessment Skills
Healing Touch and Adjustments
Sequencing and Transitions
Applied Anatomy in Asana
The Art and Science of Presentation
Developing Your Teaching Style
Module 8: Transformation
Holding the Container
Special Population Programs
…Prenatal, Kids, Family and Seniors
Introducing Advanced Postures
Hands on Enhancement
Ethics and Professional Guidelines
Developing Yoga Education
Module 9: Integration
Living in Balance
The Business of Yoga
Inspiring Sacred Celebrations
Refining Observation Skills
Articulating the Essence of Yoga
Hands-on Enhancement
Teacher Presentations
"This training has been wonderfully positive on many levels. First, the high quality of the Instructors, their professionalism and organization and clarity with which the knowledge is transmitted has been very helpful. Secondly, the circle of support and new friendships formed are precious gifts. The training definitely addresses the whole person, not only the physical aspect, but the emotional and spiritual as well. I am very grateful for this incomparable experience."
Anne-Marie Dall'Agata, Wilmette, IL
Home Study Curriculum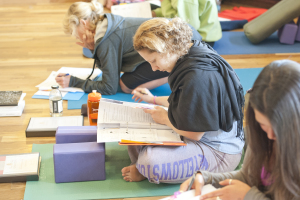 The Yogamotion Training is supplemented with Guided Home Study Packets to enhance your own practice, building the cornerstone to creative and authentic expertise. Designed for accelerated learning, each principle and technique introduced in the Modules will be reviewed through an outline of various reading, writing, and practicing assignments, as well as teaching opportunities.
The YogaMotion Training will equip you with the technical and philosophical fundamentals for teaching safe and dynamic yoga classes, workshops, and retreats.  You'll receive detailed instruction on a  practical approach to yoga postures, breath control, mindfulness meditation, and the art of teaching. The whole-brain education techniques developed by Nancy Ruby include a balance of personal practice, lecture and discussion, communication skills, interactive workshops, student teaching and videotaping. Emphasis is placed on creating an atmosphere of self-paced progress in both practicing and living yoga. You'll learn how to set appropriate intentions for yourself and your students, so you can embrace the experience with earnest dedication.
What You'll Learn
During this course you will:
Study, design and improve your own yoga practice.
Embark on your own personal process of healing and discovery.
Form the knowledge, ability and necessary confidence for becoming an effective and inspirational YogaMotionTeacher.
Build a foundational understanding of structural alignment and anatomy of movement.
Develop assessment skills for working with students and their injuries or limitations.
Integrate the physical, emotional and spiritual aspects of yoga into your lifestyle and assist your students in their discovery.
Learn effective communication skills and presentation techniques to connect with your students.
Gain a greater understanding of the full spectrum of yoga.
The course study topics and scope of information given is incredible! Organization A+. Nancy has a wealth of experience, training and knowledge that she so graciously choose to share. I learned so much and am so glad I did this – it was perfect!
Harriet Alterowitz – Missoula, MT