For Personal Practice and Advanced Teacher Training
with Nancy Ruby and Sara Valentine

April 27 – 30, 2017
Thursday – Sunday
Bozeman
Integrate the practice of Yoga with the science of Ayurveda for living your best life and helping others to do the same.
Check out my brand new 3-part mini class on Vibrant, Easeful Living with Ayurveda and Yoga. It's free!
Yoga & Ayurveda together form a complete approach for optimal health, vitality and self awareness.
They are known as sister sciences offering us effective tools to bring balance to our body, mind and spirit, therefore creating harmony in our lives.
Join us for this upcoming workshop to gain a broader understanding of your personal constitution (dosha) and how to apply yourself to the practices of movement, meditation, breathwork and nutrition for optimal well being throughout the seasons of your life.
This two-part training offers in-depth knowledge for students and one-on-one coaching techniques for teachers who want to support their students on the path of health and healing.
Advanced Training for Teachers:
– 32 hours over 4 days plus home study and one hour of private consultation
– YogaMotion RYS300 Certificate of Completion – all 40 hours required.
– Continuing Education Credit for certified instructors – choose from the workshops below.

Advanced Study for Students:
– Deepen your personal practice through the application of Ayurveda – life knowledge.
– Be a powerful force in your own healthcare.
Aligning with the rhythms of the day, the season, and the stages of your life will bring ease and comfort.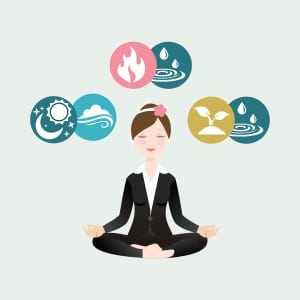 Ayurveda translates as life knowledge (ayur: life,  veda: knowledge).
Understanding your personal makeup, constitution, or dosha, helps to adapt your yoga practice, or that of your students, according to individual requirements.
The asanas, pranayama (breathwork) and meditation techniques that are appropriate for one constitution may not be helpful for another so understanding each dosha will enable you to personalize yoga practices to the unique energetics of different mind/body types.
Yoga and Ayurveda both look to the whole person, which is not only body but also mind and soul. They emphasize the development of Sattva or balance. In yoga, Sattva is the higher quality that allows spiritual growth to occur and in Ayurveda, Sattva is the state of balance that creates healing.
Expand your offerings with educational classes and one-on-one training integrating the Art and Science of Ayurveda, empowering your students to live their best life.
For certified yoga teachers this course provides supplemental, specialized training in Ayurveda and Yoga with the emphasis on teaching tri-doshic classes, customizing practices for the needs of your students, and supporting individual lifestyle practices through one-on-one wellness coaching. You will gain the skills and formatting to offer private training helping to build your clientele and Yoga business.
For yoga students with one or more years of experience, this course provides the tools to create a personalized yoga practice that meets your individual needs and interests. Deepening your knowledge of Ayurveda, the doshas, and the keys to living in rhythm with life will give you the confidence to make wise choices on your path of living well. Choose to attend any or all of the workshops.
Four days of Advanced Training and In-depth Studies
Thursday 8:30 am – 12:30 pm (all are welcome)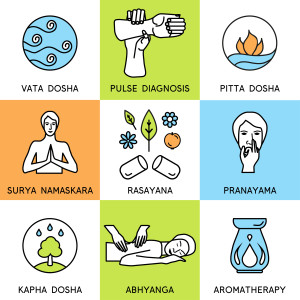 – Greeting your Community
– Tri-doshic Yoga Practice
– Discovering your Dosha
– Intro to Ayurveda and the three Constitutions
– Defining the Five Elements
– Emotional Attributes of each Dosha
Thursday 1:30 – 5:30 pm (teachers only)
– Methods for Ayurvedic Yoga Practices
– Personalizing Yoga
– Intake protocol for wellness coaching
– Designing a practice according to dosha tendencies, lifestyle and interests.
– The art of offering private sessions
Friday 8:30 am – 12:30 pm (all are welcome)
– Tri-doshic Yoga Practice
– Pranayama practices for the Doshas
– Group Discussion
Friday 1:30 -5:30 pm (teachers only)
– Skill sets for teaching one-on-one: Scheduling. Consistency. Retention. Results.
– Ethics and scope of practice
– Experiential design with sample case studies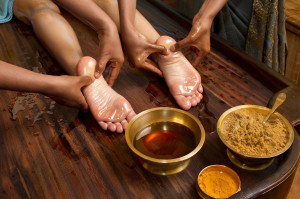 Saturday  8:30 am – 12:30 pm (all are welcome)
– Yoga Practices focusing on individual Doshas
– Dinacharya – Creating routine for wellbeing
– Five Senses Therapy: aromas, colors, tastes, sound and touch
Saturday 12:30 – 2:00 pm (all are welcome)
– Enjoy an Ayurvedic cooking class as we share our communal lunch.
Saturday  2:00 – 5:30 pm (all are welcome)
– Essential maps of Ayurveda – vayus, nadis, doshas, gunas
– Self-massage and daily cleansing routines
Sunday 8:30 am – 12:30 pm (all are welcome)
– Ayurvedic Yoga Practice for the seasons, and the transitions between them
– The Six Tastes of Ayurveda and their emotions
– Integration and Ayurvedic Diet
– Basic Ayurvedic approach to cooking, digestion, nutrition, and right eating (rhythms)
Sunday 12:30 – 2:00 pm (all are welcome)
– Enjoy a catered Ayurvedic luncheon and discussion
Sunday 2:00 – 4:00 pm  (teachers only)
– Creative Communications: listening and observation skills
– Languaging skills for private clients vs class room guidance
– Tying it all together
Home Study for YM RYS300 students: 8 hour credit
Includes implementing a written knowledge survey, one wellness coaching case study plus teaching one tri-doshic class, Home Study packet provided.
RESERVE YOUR PLACE – REGISTRATION IS BELOW
DEADLINE FOR REGISTRATION IS APRIL 21, 2017
YOUR INVESTMENT:

Full 40-hour Training for  YogaMotion RYS300 Teachers  $600
Includes Home Study Packet plus 60 minutes of private coaching (8 hour non-contact credit)
Full 32-hour Workshop for Teachers  $550
Continuing Education credit provided for Yoga Alliance RYTs
Optional Home Study Packet and Private Coaching  $125
To deepen the integration of all that you learn.
Full 22-hour Workshop for Student's Only $375
includes luncheon
Single Workshop Option: $80 per 4 hour session
Single workshops are open to drop-ins as space allows.
Reserve Your Space:
Send your check to YogaMotion 999 Buckrake Avenue, Bozeman, MT 59718 or call 406.581.5041 or write info@yogamotion.com or submit your payment through PayPal below.
Cancellation Policy
There will be a $25 administration fee for any cancellations. No refunds will be given after April 21 , 2017.
Registration Deadline:
April 21, 2017
More About Sara Valentine, E-RYT 200, Certified Health Coach,
Sara has been helping others towards their goals of health and wellness for over 15 years.
Her own journey began over 17 years ago with a severe back injury that initially led her to Yoga and from there brought her to the journey she is on today. Making simple yet profound everyday changes has created a life she never imagined. Now she wants to help others do the same!
Through Sara's compassionate yet direct approach she offers one-on-one coaching as well as an array of yoga and wellness classes. Her intention is to help make a difference in her community in Placerville, California by helping students meet their personal goals, improve their health,  create joy and happiness and find inner peace one step at a time.
Certifications through  YogaMotion, Integrative Yoga Therapy,   Whole Health Medicine Institute, Global College of Natural Medicine and  Evergreen Herb Garden as well as Aromahead Institute for Aromatherapy certification.