Guest blog by Sara Valentine, E-RYT200, Health Coach, and good friend
This past week I have had the opportunity to co-facilitate a Yoga and Ayurvedic workshop with my mentor, teacher and dear friend Nancy Ruby.
 I feel so honored to teach along side someone with over 30 years of experience and to be around such shared enthusiasm, passion and joy for what we do.
As we were putting together this workshop I had an opportunity to read several great books on the subject and one was by Dr. David Frawley, a well renowned Ayurvedic Yoga teacher. In his book Yoga and Ayurveda: Self Healing and Self Actualization he speaks to the importance of understanding how our yoga practice should shift as we age. I thought I would share that this week to help us all gain a better understanding of these two disciplines and how they can serve us over our lifetime.
Before the age of 24 our practice should be quite active. Strong poses and lots of flow. We are building at that age and want to encourage growth and strength.
From 24 to 48 year of age we want to begin to introduce the spiritual aspect of the practice and some meditation. This time of our lives can get very busy with careers, family and relationships. By introducing meditation we set ourselves up with tools that will help us deal with stress, busy lives and challenges that inevitably come up.
From 48 to 70 years of age our practice should be stronger in meditation than the physical. It's not that we give up the physical aspect but rather change how looks. Slow it down, make it a little gentler and emphasize more relaxation.
After 70 is the time where deep meditation begins. At this age we begin to reflect upon our lives, what we have accomplished, the choices we have made along the way and be at peace with those choices. Meditation can definitely help us to connect more deeply within and to know that we made the best choice we could in any given moment.
Take a moment to look at your yoga practice and ask yourself if it is truly serving you. Are you making the best choices each time you are on your mat to honor where you are, not only that day, but in your life?
Namaste,
Sara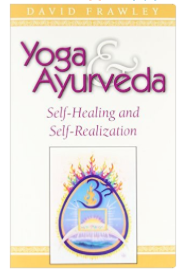 For more writing from Sara see her blog.
We'd would love to hear from you as to how your practice has changed over the years. Please share!
If you would like to learn more about Yoga and Ayurveda, we suggest David Frawley's book. Yoga and Ayurveda. You can order it through our bookstore>>>