6-week Course with Nancy
Monday mornings
9:00 – 10:30 a.m.
at the MONTANA LOTUS CENTER
1119 North 7th Avenue, Bozeman 
March 5 – April 9
Current course is FULL   
Reserve your place today. Registration details below.
Be expertly guided through a full spectrum Yoga Practice with Nancy Ruby focused on:
Intelligent Movement

Mindful Breathing

Evolutionary Education
Yoga for Vibrant Living  is for those that want to dive into the traditional teachings of Yoga while enjoying the multi-sensory practices of meditation, mantra, functional movement, and deep relaxation.
We will address our asana (physical postures) with a sense of vigor to build and maintain strength and stamina while also tapping into prana (life force) as your source of peace and joy.
Taught in a quiet, reflective atmosphere, you will connect with your breath and your buddhi mind – your aspect of discernment. You will be encouraged to play your edges, while deeply listening to your inner wisdom.
When you remain present moment by moment, you will know when to push and when to surrender, cultivating a practice that leaves you feeling invigorated and centered in your highest self.
6-week Course with Nancy Ruby
Monday mornings   9:00 – 10:30 a.m.
Held at MONTANA LOTUS CENTER
1119 North 7th Avenue, Bozeman  
Reserve your place today! (12 spaces open)
Another primary intention of this weekly course is to inform your practice at home, whether you need to develop one or bring new inspiration into what you do now.
The Art and Science of Yoga will also inform  your daily life. You will feel a shift in how you move, how you choose, and how you take care of yourself moment by moment. It's the small changes that make a big difference in how we can live a vibrant, healthy, joyful life.
Questions, concerns, curiosities? Drop me a note nancyruby@yogamotion.com
LIVE A VIBRANT LIFE!
Build your confidence through physical strength
Become more flexible in body and mind
Increase your stamina and sense-ability
Bolster balance and agility
Diminish stress and insomnia
Expand a sense of wonder and joy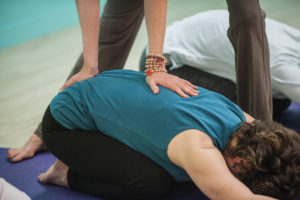 Investment:  $80
Mail check to: YogaMotion Headquarters 999 Buckrake Ave Bozeman, MT 59718
or use PayPal below
Drop ins welcome as space allows – please call ahead $15 per class