FOUNDATION, Alignment, Intention, Adjust, Modify, Breathe
Just as the practice of any Yoga pose serves as template for every day living,
so too is YogaMotion's 6 stages to an Asana easily translatable to 6 Stages to Living in Bliss. 
The intention of Yoga Asana (posture) is to rid the body of disturbance, imbalances and distractions by developing strength, flexibility, stamina and ease in perfect balance.  When this is accomplished, the practitioner will then naturally breathe more deeply and easily, leading to the ultimate intention of Yoga: cultivating a calm, receptive, focused mind that recognizes our blissful nature.  And you may have thought it was all about loosening up your hamstrings.  Well, that can certainly happen along the way, but isn't it a more inspiring to let loose of the distractions of life so that you may live in Bliss?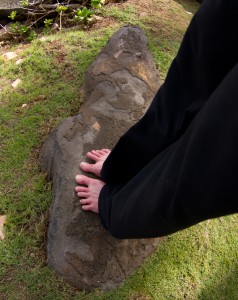 The fundamental stage of every posture is Foundation.  First and foremost, the building of any structure has everything to do with connecting to the Earth, creating stability from the ground up. So whether you are standing on your feet, your hands or your head, sitting on your hips, or laying front or back on your mat, it is imperative to feel the sensation of connection to the Earth.  This will instill in your pose a sense of safety, security, and support.  And just as in life, these sensations allow us to then be more present and relaxed for whatever comes next.
As you practice Yoga, direct your attention to the Foundation of your pose as you build upon your own structure. If you begin to feel insecure, unsafe, or unsure about proceeding, return to Foundation, even it means moving the rest of your body out of the posture. Begin again. And recognize your willingness or resistance to starting over.  Don't we often wish for a fresh start in life?  Here is your chance to practice anew along with a sense of humble curiosity and a willingess to explore.
I suggest deepening your connection with Foundation in simple poses that you may feel are easy and see the freshness you can bring to the familiar. Try Tadasana (mountain), Prasarita Padottanasana (standing straddle forward bend), Balasana (child), and Savasana (corpse). Then choose few poses that may bring some challenge for you, such as Vrksasana (tree), Virabhadrasana (Warrior I, II, or III) and Setu Bandasana (bridge).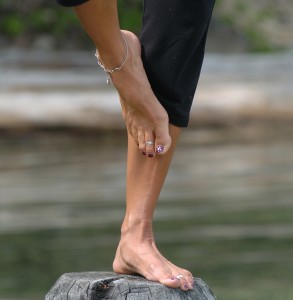 Hold your attention on the Foundation with each exhalation, settling over and over again into stability. Let the rest of the pose unfold with inhalation, as you open to the possibilities.  This rhythm of awareness will reward you with the most fundamental teaching of the Yoga Sutras on Yoga Asana:
Sthira Sukham Asanam 2.26.   Steadiness and ease is what creates a comfortable seat.
From the formal practice on the mat, we can step into our life addressing the balance of comfort in our days as we build a foundation of support that brings feelings of safety and security.  In my own day to day life, it is the quiet time I spend in my home and in nature that reconnects me to the Earth and a sense of grounding into my most authentic self.  I experience a settling deep inside that then allows me to open up to the infinite possibilities in life.
How do you build your Foundation?
What brings about feelings of stability, safety and support?
And which postures in Yoga support your connection to this fundamental stage of growing both a pose and a life that feels comfortable to you?
Tune in next week as we address YogaMotion's second stage of an Asana – ALIGNMENT.
Yours in Yoga,