Clean Gut – Clear Mind
By Sara Valentine, E-RYT200
What does that really mean? What exactly is gut health all about?
Simply put it's about making choices in our daily lives that align with our body and mind and help to keep us balanced emotionally and physically. And it all starts with our digestion! Ayurveda, understands that one of the most important factors to your overall health is the health of your digestive system.
"It's not just about what you eat but what you digest." – Ayurvedic saying
How often do you experience gas, bloating, indigestion, irregular bowl movements, fatigue, acid re-flux, foggy thinking, weight gain or congestion? These are all signs that your gut health is compromised and this can effect your health in many ways like brain health, skin, weight gain, IBS, depression, irregular sleep patterns, inflammation, memory issues and more!
Weak digestion is the precursor to every chronic disease." according to Kulreet Chaudhary, M.D.
Science is now beginning to catch up to what Ayurveda has known for thousands of years. Our gut health is actually tied to our nervous system and the network of neurons located in the gastrointestinal tract has led many to call the gut "the second brain."
Download a Gut IQ Quiz and Sensational Summer Tip Sheet here>>>
Science calls it our enteric nervous system (ENS). What goes on in our bellies is far more than just processing the food we eat. It partly determines our mental state and plays key roles in certain diseases throughout the body. It is my personal opinion they will eventually discover the importance of strong digestion with the prevention of Alzheimer's, Dementia, Parkinson's and more.
"The system is way too complicated to have evolved only to make sure things move out of your colon," says Emeran Mayer, professor of physiology, psychiatry and bio-behavioral sciences at the David Geffen School of Medicine at U.C.L.A.. Scientists were shocked to learn that about 90% of the fibers in the primary visceral nerve carry information from the gut to the brain and not the other way around!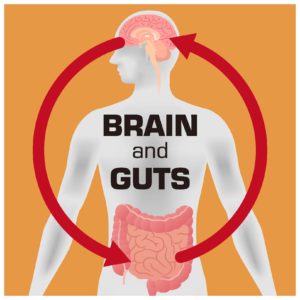 The second brain informs our state of mind as well. Scientists are discovering a big part of our emotions are influenced by the nerves in our gut. Butterflies in the stomach—signaling in the gut as part of our physiological stress response is one example. Everyday emotional wellbeing may rely on messages from the gut brain to the brain in the head.
"The enteric nervous system uses more than 30 neurotransmitters, just like the brain, and in fact 95% of the body's serotonin is found in the bowels. Because antidepressant medications increase serotonin levels, it's little wonder that meds meant to cause chemical changes in the mind often provoke GI issues as a side effect. Irritable bowel syndrome—which afflicts more than two million Americans—also arises in part from too much serotonin in our entrails, and could perhaps be regarded as a "mental illness" of the second brain."  – Adam Hadhazy
How does Ayurveda help? Creating simple every day changes in our routines align us with the rhythms of nature shifting our focus from what we eat to when, how and why we eat. Specific yoga practices, Ayurvedic herbal supplements, herbal teas and more help to strengthen digestion for effective assimilation and absorption of much needed nutrients. Daily bowel movements, sound sleep, balanced energy, improved memory, and a reduction or elimination of inflammation, gas, bloating and indigestion are just some of the benefits that occur when are living in rhythm with a clean cut and clear mind.
Are you ready to create more balance in your bowels, more fire in your digestion, more ease in elimination? Get that junk outta your trunk.
Join Nancy and myself next Thursday, July 13 at Sweet Zenith for our One-day Retreat at Yoga, Lunch & Learn.
Gain simple yet profound tips that will last you a lifetime.
Clean Gut, Clear Mind is your next ticket to ride into a vibrant, easeful life.
.Download a Gut IQ Quiz and Sensational Summer Tip Sheet here>>>